Iris spuria L. subsp. halophila (Pall.) B.Mathew & Wendelbo.
A very vigorous and hardy, free-flowering rhizomatour iris with white, dingy white-yellow or grey-purple flowers, sometimes golden yellow. [RHSD, BIS, Lynch].
Horticultural & Botanical History
'Although ochroleuca, halophila, and spuria, have maintained themselves till now in the rank of a multitude of spontaneous, as well as garden specimens, we cannot detect the slightest character that can be adduced to discriminate them in any way than as varieties of each other.' [BM t.1131/1813]. 'We confess that we are unable at present to detect any other distinctions between [I. halophila] and I. spuria than that this is altogether a much bigger plant.' [BM t.875/1805].
Introduced to Britain in 1757. [JD].
History at Camden Park
Listed in all published catalogues [B.236/1843].
Notes
Published Nov 02, 2009 - 04:29 PM | Last updated Jul 23, 2010 - 05:30 PM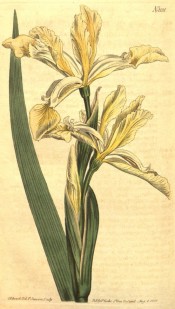 Family
Iridaceae
Category
Region of origin

Europe and Asia

Synonyms

Iris gueldenstaedtiana Lepech.
Iris gyldenstaedtii Hoffmans.
Iris guldenstaedia J.F.Gmel.

Common Name
Name in the Camden Park Record

Iris Guldenstadtii

Confidence level
high