Iris ochroleuca L.
Borderline fully-hardy, robust, rhizomatous, beardless iris, often evergreen, with branched stems with 3-5 white and yellow flowers in spring. To 90cm. [RHSE, Hortus, Lynch].
Horticultural & Botanical History
'Leaving its place of growth to be more accurately ascertained hereafter, we shall observe, that it appears perfectly naturalised to this country, growing luxuriantly in a moist rich soil, and increasing, like most of the genus, very fast by its roots.' [BM t.61/1788].
'I. ochroleuca is well known in gardens and is a fine stately plant.' [Dykes].
Iris spuria var. ochroleuca 'is a robust and stately growing variety, varying from three to four feet in height, with broadish lanceolate leaves, tall erect flower stems, and extremely beautiful large clear white blossoms from six to eight inches broad, the lower sepals marked with a very rich lemon-coloured blotch. The singularly elegant and conspicuous blossoms of this ornamental plant are seen to great advantage when contrasted with the darker background of selected evergreens'. [Gard. Chron. 1854]. Introduced to Britain in 1757 as Iris ochroleuca and 1790 as I. orientalis. [JD].
History at Camden Park
Listed in all published catalogues [B.247/1843]. Well established in the gardens at Camden Park.
Notes
Iris ochroleuca Ker-Gawl. (1827) = Iris monnieri DC.
It has also been related to Iris stenogyna Delar., but this is perhaps closer to Iris spuria L. ssp. halophila (Pall.) B.Mathew & Wendelbo. which see.
Published Nov 04, 2009 - 04:42 PM | Last updated Jul 23, 2010 - 05:22 PM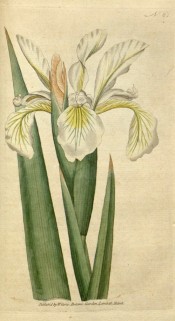 Family
Iridaceae
Category
Region of origin

South eastern Europe

Synonyms

Iris orientalis Mill.
Iris spuria L. ssp. ochroleuca

Common Name
Name in the Camden Park Record

Iris ochroleuca

Confidence level
high