Iris japonica Thunb.
A rhizomatous crested iris with fans of strap-shaped, evergreen, dark green leaves and, in late spring, 3-4 flattened, frilly, white or pale lavender-blue flowers per stem, with purple and orange markings on the falls. To 45cm. Under favourable conditions it can be very invasive in the garden. [RHSE, Hortus].
Horticultural & Botanical History
'This iris has been cultivated in China for centuries and it is impossible to say whether it is only an introduction into Burma and Japan.' [Dykes].
The Iris chinensis illustrated in Curtis's Botanical Magazine is clearly Iris japonica: 'The public are indebted to Mr. Evans of the India-House, for the introduction of this plant from China, where it is a native.
It flowered last year, at different periods, for the first time, in many collections near London; this irregularity of its blowing was occasioned, we presume by its being kept in different degrees of heat, in the stoves of some, and the green-houses of others; Mr. Thomson, Nurseryman of Mile-End, at the close of the year, had it growing very luxuriantly in the open ground; but the very severe winter of 1796-1797, in which the thermometer at Brompton was three degrees below zero, destroyed it; nevertheless, there is no doubt but it will bear the cold of our ordinary winters, and thrive better in the open ground, in a moist situation, than in the stove, or green-house in either of which, however, it will flower very well; and, where the plant is luxuriant, continue to do so for a confiderable length of time, the blossoms being numerous, and unfolding gradually: in a strong plant at Mr. Colvilles's, Nurseryman, King's-Road, we counted seven blossoms expanded at one time on its different branches.
It differs from all other known Iris's, in having a root perfectly of the creeping kind, sending out shoots to a considerable distance, by which it is rendered very easy of propagation; its flowers, in form and colour, come nearest to those of Iris cristata, and have a considerable degree of fragrance.' [BM t.373/1797].
Johnson's Dictionary gives a date of introduction to Britain of 1792 for Iris chinensis, the description of which fits I. japonica.
History at Camden Park
Listed in all published catalogues [B.230/1843].
Notes
Iris chinensis L. = Belamcanda chinensis (L.) DC. which see.
Iris chinensis Bunge. (1872) = Iris tectorum Maxim.
Published Oct 29, 2009 - 05:21 PM | Last updated Jul 23, 2010 - 05:31 PM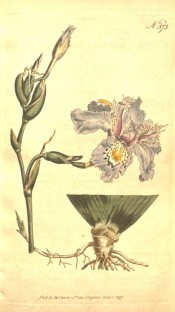 | | |
| --- | --- |
| Family | Iridaceae |
| Category | |
| Region of origin | China, Burma and Japan |
| Synonyms | |
| Common Name | Japanese Iris |
| Name in the Camden Park Record | Iris Chinensis |
| Confidence level | high |