Iris aphylla L. subsp. hungarica
Iris aphylla is a rhizomatous, dwarf bearded iris with grey-green leaves and branched stems bearing 1-5 purple or blue-violet flowers with yellow-tipped white beards in spring. To 30cm. [RHSE]. The variety hungarica is often taller than the type.
Horticultural & Botanical History
'[Iris Hungarica] is a native of Hungary: it has been lately introduced, and is quite hardy of course, with us. It produces its pleasing flowers in the months of April and May, and is well worthy of a place in any garden.' [LBC no.1970/1833].
Curtis's Botanical Magazine relates Iris aphylla to I. plicata Lam. and I. pallida. 'Our plant is so very closely related to pallida that we are at a loss to find any other characteristics than those of size, scent, and glaucousness of the leaves.' [BM t.870/1805].
It is figured in the Botanical Register under the name Iris furcata. [BR f.801/1824]. The plant figured has red rather than blue flowers.
'Flowering in May and June, and sometimes again in autumn. [Iris hungarica] is not one of the strongest growing sorts, but is of middle stature, the leaves seldom exceed a foot in height.' [OFG f.250/1854]. Iris hungarica was introduced to Britain in 1815 [JD] and I. aphylla in 1748. [FC p.148/1859].
History at Camden Park
Listed in all published catalogues [B.238/1843].
Notes
Published Nov 03, 2009 - 03:29 PM | Last updated Jul 23, 2010 - 05:29 PM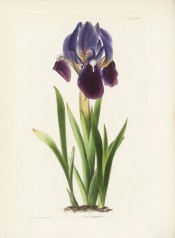 Family
Iridaceae
Category
Region of origin

Central and eastern Europe

Synonyms

Iris hungarica Waldst. & Kit.
Iris furcata M.Bieb.

Common Name
Name in the Camden Park Record

Iris Hungarica

Confidence level
high