Hymenocallis glauca (Herb.) Bak.
The identity of this plant remains in doubt. Baker considers Hymenocallis glauca (Zucc.) M.Roem. to be synonymous with Choretis glauca Herb., although he gives the naming authors as Knowles & Westcott [Baker Am. p.123/1888]. The Plant List, on the other hand regards them as true and separate species. They are regarded as synonymous here.
Frost-tender bulbous perennial with elliptic basal leaves, to 45cm long and 10cm broad, and flower stems, to 35cm, bearing umbels of up to 3 fragrant white flowers, to 15cm across, in spring. [RHSD, Baker Am.].
Horticultural & Botanical History
Botanically described by Zuccerman as Pancratium glaucum [Abh. Math.-Phys. Cl. Konigl. Bayer. Akad. Wiss. Vol.2, p.317/1837] and placed in Hymenocallis by Max Roemer in 1847 [Fam. Nat. Syn. Monogr. vol.4, p.173/1847]. Choretis glauca Herb. was also botanically described in 1837 by William Herbert [Herbert p.220/1837].
'It is a greenhouse plant, liking a very sandy soil, and perfect rest in the autumn and winter, approaching in habit to Ismene, but in the perianth to Hymenocallis rotata. Before I had seen the flower of this plant I entertained no doubt that it would prove to be an Ismene, and when the flower appeared, I had much difficulty in satisfying myself whether it should be considered generically distinct or not. I have not been able to learn that such a diversity of anther exists in any well-constituted genus, and particularly the separation of Habenaria from Orchis seems to be very analogous. I have since been fully satisfied of the diversity of this plant by the vegetation of the seeds, which, though sown in May (the plant having been forced, to satisy my impatience), have produced strong dormant bulbs under ground at the bottom of the pot, in the manner of Ismene, which will not vegetate till next year. Hymenocallis, like most other bulbs, form leaf and bulb at the same time. The genus [Choretis of Herbert] is perhaps confined to the Mexican dependencies, including Texas.' [Herbert p.220].
Introduced to cultivation in 1838 but still rare in 1888. [Baker Am.].
History at Camden Park
Listed in all published catalogues [B.383/1843].
Notes
Published May 17, 2009 - 01:46 PM | Last updated Jul 16, 2012 - 10:33 AM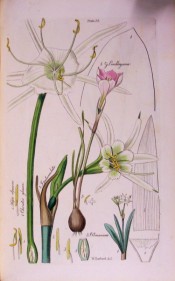 Family
Amaryllidaceae
Category
Region of origin

Mexico

Synonyms

Pancratium glaucum Zucc.
Hymenocallis choretis Hemsl.
Hymenocallis horsmannii Baker
Choretis glauca Herb.

Common Name
Name in the Camden Park Record

Pancratium glaucum

Confidence level
high