Ismene amancaes (Ruiz & Pav.) Herb.
Bulbous perennial, the strap-like basal leaves fused at the base to form a false stem which produces a loose umbel of 2-6 scented, deep yellow flowers in summer. To 30cm. [RHSE, Baker Am.].
Horticultural & Botanical History
First botanically described by Ruiz and Pavon as Narcissus amancaes in 1802 [Fl. Peruv. vol.3, p.53/1802]. Placed in Ismene by Herbert in 1821 [Herbert's Appendix p.46/1821].
'It produces its elegant flowers in the month of May, after which the leaves decay, and the bulbs remain six months or more in a dormant state.' [LBC no.1266/1828].
'A species that has not yet found its way into any general enumeration of vegetables known to us, and a stranger to our collections till lately imported from the Brazils, by Messrs. Middlemast and Co. Shepherd's-Bush, in whose hot-house it flowered, for the first time, this summer. Most probably a native of the Brazils, but certainly of Peru, where it is known by the appellation Amancaes or Hamancaes, and is found in abundance on hills in the neighbourhood of Lima that bear the same name. The flowers, which are exceedingly fragrant, are used by the women of those parts by way of ornament for their hair.' [BM t.1224/1809].
Ismene amanceas var sulphurea, a hybrid 'raised 4 years ago from a seed of Ismene amanceas and I. calathina' is figured in the Botanical Register. [BR f.600/1822) and BR f.1665/1834]. Introduced to Britain in 1808 from Brazil by the nurserymen Middlemist and Wood. [MB p.267/1836]. IH p.28 vol.1/1854. FS f.449/1849.
History at Camden Park
Listed in all published catalogues [B.265/1843].
Notes
Published May 17, 2009 - 12:06 PM | Last updated Jul 16, 2012 - 10:10 AM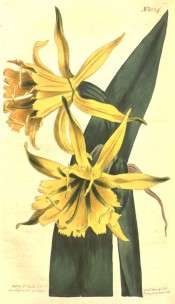 Family
Amaryllidaceae
Category
Region of origin

Peru

Synonyms

Ismene crinifolia Salisb.
Ismene integra M.Roem.
Hymenocallis amancaes (Ruiz & Pav.) G.Nicholson
Pancratium amancaes Ker Gawl.
Narcissus amancaes Ruiz & Pav.

Common Name

Spider lily, Peruvian daffodil

Name in the Camden Park Record

Ismene Amancaes

Confidence level
high