Phycella herbertianum Lindl.
Bulbous perennial with bright red flowers with a long tube and narrow segments, borne on 4-6 flowered umbels contemporary with the 3-4 narrow, strap-shaped leaves. [Baker Am.].
Horticultural & Botanical History
First botanically described by John Lindley in 1831 as Phycella herbertianum: 'A native of Cumbre, a pass in the Andes between Valparaiso and Santiago, where it was found by Mr. M'Rae, in November 1825, flowering in company with many other curious and beautiful plant. It appears, from his specimens, to have vegetated in a deep black soil, and to have had its bulbs buried at least four or five inches below the surface. Brought to the Garden of the Horticultural Society, it flowered in the Greenhouse in May 1827, at which time our drawing was made.' [BR t.1341/1831].
Introduced to Britain in 1825. [JD].
History at Camden Park
A desideratum to Loddiges' Nursery on 6th January 1845. [MP A2933-2, p.28]. Listed as Phycella herbertii in the 1836 Loddiges' Nursery catalogue, a copy of which is held at Camden Park [CPA], and this is presumably where Macarthur obtained his information. I have found no further record of this plant and it may not have been grown in the gardens.
Notes
Published May 15, 2009 - 04:18 PM | Last updated Jul 13, 2012 - 01:38 PM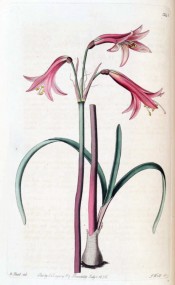 Family
Amaryllidaceae
Category
Region of origin

South America

Synonyms

Phycella graciliflorum Herb.
Amaryllis herbertiana (Lindl.) Traub & Uphof
Amaryllis gladioloides (Hieron.) Traub & Uphof
Estephia herbertiana (Lindl.) D.Dietr.
Famatina herbertiana (Lindl.) Ravenna
Famatina maulensis Ravenna
Habranthus gladioloides Hieron.
Hippeastrum herbertianum (Lindl.) Baker
Hippeastrum gladioloides (Hieron.) Pax
Hippeastrum herbertiana (Lindl.) Baker
Rhodophiala herbertiana (Lindl.) Hunz.
Rhodophiala gladioloides (Hieron.) Traub

Common Name
Name in the Camden Park Record

Phycella Herbertii

Confidence level
high