Hemerocallis fulva L.
Fully-hardy, semi-evergreen, rhizomatous perennial with trumpet-shaped orange-brown flowers in summer. To 1m. [RHSE, Hortus].
Horticultural & Botanical History
'According to Linnaeus, this species is a native of China. It has long been inured to our climate, and few plants thrive better in any soil or situation, but a moist soil suits it best; its leaves on their first emerging from the ground, and for a considerable time afterwards, are of the most delicate green imaginable; the appearance which the plant assumes at this period of its growth is, indeed, so pleasing, that it may be said to constitute one half of its beauty; its blossoms which appear in July and August, are twice the size of those of the flava, of a tawny orange colour, without gloss or smell, the petals waved on the edge, the flowers are rarely or never succeeded by ripe Capsules as in the flava, which is a circumstance that has been noticed by Parkinson; when these several characters, in which the fulva differs so essentially from the flava, are attentively considered, we shall wonder that Linnaeus could entertain an idea of their being varieties of each other. The Hemerocallis fulva, from its size, and from the great multiplication of its roots, is best adapted to large gardens and plantations.' [BM t.64/1790].
'Day lilies' were introduced into England in the late 16th century. Paxton's Dictionary gives a date of 1599 for Hemerocallis fulva, and many garden varieties and hybrids had been developed by 1843. It is probable that the plants grown at Camden Park under the name of Hemerocallis fulva and Hemerocallis disticha were such varieties. Paxton's and Johnston's Dictionary list Hemerocallis disticha as a distinct species, introduced to Britain in 1798. It is figured in the Ornamental Flower Garden and shown with yellow and orange flowers. [OFG f.167/1854]. Redouté L pl.16/1802-1815.
History at Camden Park
Listed in all published catalogues as Hemerocallis fulva [B.209/1843] and Hemerocallis disticha [B.208/1843].
Notes
Published Jan 07, 2010 - 01:10 PM | Last updated Jan 07, 2010 - 01:31 PM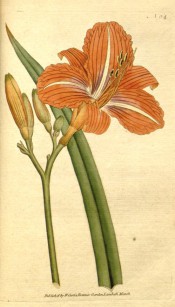 Family
Hemerocallidaceae
Category
Region of origin

China or Japan

Synonyms

Hemerocallis disticha Donn

Common Name

Tawny day lily

Name in the Camden Park Record

Hemerocallis fulva

Hemerocallis disticha

Confidence level
high