Griffinia hyacinthina Ker Gawl.
Bulbous perennial with oblong leaves and umbels of 9 or 10 white flowers, produced in summer, the upper segments tending to blue at the apex. The 4-5 leaves, to 15cm long, have lattice-like veining and are produced after the flowers. To 45cm. [RHSD, Baker Am.].
Horticultural & Botanical History
First botanically described as Amaryllis hyacinthina by Ker Gawler in 1816: 'A recent and unrecorded introduction [about 1815] of great curiosity, and due with so many others to the zeal and intelligence of Mr. Griffin in his botanical pursuits; which have enabled him to form the most extensive assemblage of this fine tribe of plants of any perhaps in Europe. […] It was discovered in the Brazils, by Mr. E. Woodford, while residing in that country. […] Its general accordance is manifestly more complete with Amaryllis than with any other generic groupe [sic], and its anomalies, in our judgment, are not of a nature to render the separation of it into a new expedient one.' [BR f.163/1816].
The author later changed his mind: 'We have withdrawn the Amaryllis hyacinthina […] from the genus where it had been previously deposited, and have founded a new one upon it, under a name intended as an acknowledgement of the benefits derived to botany from the pursuits of Mr. Griffin.' [addendum to BR f.444/1820]. MB p.171/1845.
History at Camden Park
Listed in the 1845, 1850 and 1857 catalogues [B.198/1845]. Griffinia hyacinthina was part of a consignment of plants sent from Kew by John Bidwill in November 1843 [AJCP]. This is the probable source.
Notes
Published May 08, 2009 - 03:27 PM | Last updated Jul 09, 2012 - 01:23 PM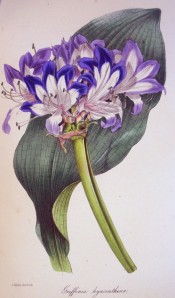 Family
Amaryllidaceae
Category
Region of origin

Brazil

Synonyms

Amaryllis hyacinthina Ker Gawl.
Amaryllis dryades Vell.
Griffinia dryades (Vell.) M.Roem.
Griffinia hookeri Kraenzl.
Hippeastrum dryades (Vell.) Kraenzl.
Lycoris hyacinthina (Ker Gawl.) Herb.

Common Name

Blue Amaryllis

Name in the Camden Park Record

Griffinia hyacinthinia

Confidence level
high