Gladiolus undulatus L.
See Gladiolus cuspidatus Jacq. Forms known to early botanists as Gladiolus undulatus were shorter-growing plants with pale yellow flowers with a broad red stripe through the centre of each petal, borne on a slender stem. [Allen]. The great variation between plants no doubt accounts for the retention of several names until at least this period. Gladiolus cuspidatus Jacq., which see, is now recognised as synonymous with Gladiolus undulatus L., the latter being the valid botanical name. They are recorded as separate species in Hortus Camdenensis to both differentiate the plants grown by Macarthur and to emphasise the difference between forms recorded by early botanists. The description given here is of plants that were specifically recorded as Gladiolus undulatus.
Horticultural & Botanical History
'Remarkable for the great length and undulation of the petals. The cream coloured flowers, marked with a bright yellow spot on a rich purple blotch, are borne in spring'. [Fish] Fish and Paxton's Dictionary describe two varieties, carneus, a bright pink and pallidus, a paler colour. The latter appears to be the variety described by Allen.
Curtis's Botanical Magazine figures two varieties of Gladiolus undulatus: 'This beautiful Gladiolus is without scent. Stem from eight inches to a foot high, sometimes simple, sometimes branched. […] This is not the Gladiolus undulatus of Linnaeus [whose] description […] corresponds very well with Gladiolus cuspidatus of Jacquin.' [BM t.538/1801]. 'This is a far less elegant variety than [t.538], has generally narrower longer flowers, and may be considered by many as deserving to be ranked as a separate species; but from the observation of long cultivation and the variations of the same bulbs in different years, we think it is a mere variety.' [BM t.647/1803].
Gladiolus undulatus was probably introduced as early as 1760. [JD].
History at Camden Park
Listed in the 1845, 1850 and 1857 catalogues [B.172/1845]. Probably introduced by John Bidwill. [See Gladiolus cardinalis Curt.]. Although Bidwill and Macarthur used G. cuspidatus extensively in their hybridisation work they do not appear to have used this plant. First appeared under the name Gladiolus cuspidatus in the 1843 catalogue.
Notes
Published Oct 25, 2009 - 01:50 PM | Last updated Jul 23, 2010 - 12:09 PM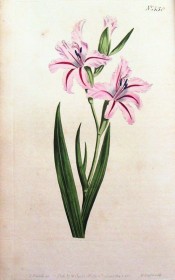 | | |
| --- | --- |
| Family | Iridaceae |
| Category | |
| Region of origin | South Africa, Cape district |
| Synonyms | Gladiolus cuspidatus Jacq. |
| Common Name | |
| Name in the Camden Park Record | Gladiolus undulatus |
| Confidence level | high |