Gladiolus floribundus Jacq.
A free-flowering species with up to 7, sword-shaped leaves, to 40cm long, and flower spikes to 45cm, with usually 3-8 blooms per spike. The large flowers are white or pale pink with a bright pink stripe in each petal, in spring. [RHSD, CECB].
Horticultural & Botanical History
'Bulb ovate, as big as a pigeon's egg. Leaves ensiform, strongly and many nerved, stiffish, outer one broadest, longest, and generally subfalcate, with a filiform cartilaginous edge nearly the length of the stem, the rest upright. Stem about a foot high, flexuose, flower-bearing nearly from its base, whence Jacquin's name. Flowers 4-6, upright, large. Spathes about two inches long, equal to the tube which is straight. Stamens scarcely longer than the faux. Anthers dark violet. Stigmas somewhat higher. The segments may vary from dirty white, with a broad livid-purple longitudinal fillet, to bright flesh colour with a broad lively red fillet. Flowers in May. Scentless. A free bloomer, very ornamental and propagates with ease from both seed and offsets.' [BM t.610/1802]. 'We were led to think, [Gladiolus grandiflorus] must be the same, or a strong variety of the Gladiolus floribundus.' A date of 1788 is given for its introduction. [ABR pl.118/1800].
Allen describes this plant as one of the few species of Gladiolus worthy of general cultivation. Grey believed it had disappeared from cultivation in Britain by 1937. A plant called Gladiolus floribundus, a tall-growing, late variety with white, rose-striped flowers, was advertised in the 1850s, possibly earlier. Its relationship to the shorter-growing plant described here is unclear. It may be the plant grown by Macarthur.
History at Camden Park
Listed in all published catalogues [B.138/1843]. Although first recorded in an Addendum to the 1843 catalogue it was later obtained from Veitch's Nursery, brought out from England by Captain P. P. King in 1849. The plant list entry is marked with a 'x', which signifies that Macarthur believed it to be an old inhabitant of the colony. There is also a question mark next to the entry. [MP A1980-3].
Notes
Gladiolus floribundus Hort.Batav. ex Tausch (1836) = Gladiolus flabellifer Tausch
Published Oct 25, 2009 - 04:33 PM | Last updated Jul 23, 2010 - 12:07 PM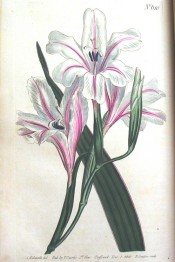 | | |
| --- | --- |
| Family | Iridaceae |
| Category | |
| Region of origin | South Africa, Cape district |
| Synonyms | Gladiolus grandiflorus Andr. |
| Common Name | |
| Name in the Camden Park Record | Gladiolus floribundus |
| Confidence level | high |