Gladiolus dalenii van Geel
A variable, robust cormous perennial, spreading by underground runners, it bears one-sided spikes of hooded, funnel-shaped red, orange or yellow flowers, sometimes spotted with green or brown, in summer. To 1.5m. [RHSE, Hortus].
Horticultural & Botanical History
'For this truly splendid addition to the hardy bulbous plants of our collections, we are indebted, in part to Richard Harrison, Esq. of Liverpool. On taking up the root, at the end of the flowering season, Mr. Harrison was surprised to find the solitary original bulb had been replaced by several fine large ones, and, between them lay hundreds of gemmae, each of which is doubtless capable of forming a new plant.' [BM t.3032/1830]. No gardener who has grown this plant in the open ground will be surprised by Mr. Harrison's experience! Now an established weed in parts of Australia but nonetheless very beautiful.
'It is one of the most splendid subjects with which we are acquainted. We received the bulbs from our worthy friends at the Leyden Botanic Garden, where we first noticed it in 1830. It flowers in August, and grows from three to five feet in height. It bears the winter perfectly well out of doors.' [LBC no.1756/1831].
'We believe that the first introduction of this noble Gladiole took place in 1829, when it was obtained from the Prince of Salm Dyck, by Mr. Hitchin, of Norwich. Mr. Richard Harrison had previously seen it in the Garden at Leyden, where, however, it seems that different ideas are entertained upon the subject of liberality from what we are accustomed to meet with in most of the Gardens of Great Britain. Our drawing was made from a plant that blossomed last July in the Nursery of Mr. Lee, of Hammersmith; almost immediately after which, we were favoured with noble specimens by Mr. Miller, of Bristol, accompanied by a beautiful drawing, executed with great skill by Miss Mintron.' [BR f.1442/1831].
Introduced to Britain in 1830. [JD]. BM t.6202/1875. OFG f.230/1854.
History at Camden Park
Listed in all published catalogues as Gladiolus psittacinus [B.156/1843]. Although Gladiolus natalensis is not listed in the catalogues it was probably grown at Camden under this name. It is clearly marked with a 'c' in a copy of Loddiges' 1836 catalogue held at Camden Park [CPA] and this is its probable source. Hybrids of natalensis are also included among plants sent to William Herbert. The form figured here is naturalised in the Camden district.
Notes
Published Oct 26, 2009 - 04:31 PM | Last updated Jul 23, 2010 - 12:06 PM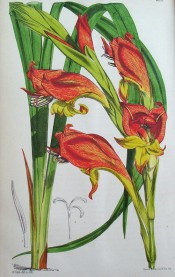 Family
Iridaceae
Category
Region of origin

Found throughout Africa and the Arabian Peninsula

Synonyms

Gladiolus psittacinus Hook.
Gladiolus natalensis Hort.Lugd.Bat. ex Lodd.
Gladiolus quartinianus A.Rich.
Gladiolus cooperi Baker

Common Name
Name in the Camden Park Record

Gladiolus psittacinus

Confidence level
high