Gladiolus alatus L.
Short-lived cormous perennial with linear leaves and up to ten hooded, funnel-shaped, scented, salmon-pink to orange flowers, splotched yellow and lime-green, in late winter and spring. To 25cm. [RHSE, CECB, Hortus].
Horticultural & Botanical History
'It is among the most beautiful of the tribe; and, although not uncommon in different collections, is seldom seen in flower, the reason perhaps, of its not appearing in Hortus Kewensis, for there is scarcely an arrival of Cape Bulbs that does not contain some of the roots. Propagates very easily by seed and offsets. We have not yet learnt of the mode of insuring its flowering, but apprehend it requires rather more heat than many of the genus.' [BM t.586/1802]. It is also figured as Gladiolus namaquensis, a darker-flowered form: 'A free blower, and propagates with facility both by seed and offsets.' [BM t.592/1802]. '[This] variety of the beautiful Gladiolus alatus [beta, 'Winged cornflag'] flowered at Spofforth, in July. […] G. alatus has seldom been seen in flower in this country. It was suggested above, t.586, that it probably required more heat than the other species; we apprehend on the contrary, that it requires free air, and to be shaded from scorching suns.' [BM t.2608/1826].
Probably introduced to cultivation before 1740, although Johnson's Dictionary gives a date of 1795. ABR pl.8/1798.
History at Camden Park
Listed only in the 1857 catalogue [B.118/1857] although Gladiolus alatus was used as a hybrid parent at Camden at least ten years earlier. Macarthur also grew the form known as Gladiolus namaquensis much earlier than 1857. Plants or bulbs of this were sent to Mr. Newman of Van Diemen's Land in 1846. [MP A2948-3].
Notes
Grey gives Gladiolus alatus of both Willdenow and Jacquin as a synonym for Gladiolus orchidiflorus, but as this was known to Macarthur as Gladiolus viperatus, which see, it is unlikely to be the catalogue plant.
Published Oct 25, 2009 - 09:04 AM | Last updated Jul 23, 2010 - 12:11 PM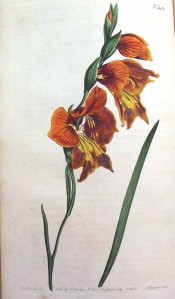 | | |
| --- | --- |
| Family | Iridaceae |
| Category | |
| Region of origin | South Africa, Cape district |
| Synonyms | Gladiolus namaquensis Ker-Gawl. |
| Common Name | Kalkoentjie |
| Name in the Camden Park Record | Gladiolus alatus |
| Confidence level | high |