Gesnera leopoldi Scheidw. ex Planch.
Cormous gesneriad with dark green heart-shaped leaves, purple beneath, and tall spikes of tubular scarlet flowers.
Horticultural & Botanical History
'Seen in Mr. van Houtte's establishment' by a correspondent of the Floricultural Cabinet, 'Gesneria Leopoldii: The handsomest of the genus. The flowers are large, in long spikes, of a rich scarlet crimson.' [FC p.104/1852]. It was figured in Louis van Houtte's publication Flore des Serres [FS f. 704-705/1852. FS f.1042/1855]. The Floricultural Cabinet gave a more detailed description in 1853: 'It belongs to the section of G. tuberosa. The leaves are very pretty, long, oval, green above, and a rich rosy-purple beneath. the flower stem rises a foot high, terminating in a cymose panicle of 20 or more beautiful blossoms. The tube is about an inch and a half long, of a red-orange-scarlet. The inside of the mouth has 3 rich dark spots, below which the inside of the tube is white.' [FC p.54/1853].
History at Camden Park
Listed only as an addendum to the 1857 catalogue [A.51/1857].
Notes
Possibly a hybrid, with Gesneria lobulata as one parent.
Gesneria lobulata Hort. ex Hanst. (c.1840) = Gesneria bulbosa var. macrorhiza (Dumort.) Klotzsch. Gesneria lobulata was mentioned in a discussion of the relationship between G. purpurea and G. douglassii in Curtis's Botanical Magazine.
Published Aug 31, 2009 - 05:04 PM | Last updated Jul 21, 2010 - 03:39 PM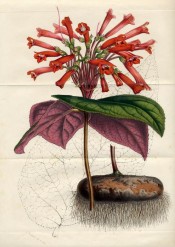 Family
Gesneriaceae
Category
Region of origin

Brazil

Synonyms

Rechsteineria leopoldii Kuntze
Corytholoma leopoldi (Scheidw. ex Planch.) Voss
Sinningia leopoldii (Scheidw. ex Planch.) Chautems

Common Name
Name in the Camden Park Record

Gesnera lobulata Leopoldi

Confidence level
high