Gelasine elongata (Graham) Ravenna
Cormous perennial with lance-shaped basal leaves, to 60cm long, the flower stems bearing a terminal cluster of few, cup-shaped, bright blue flowers with a white blotch at the base. [RHSD].
Horticultural & Botanical History
'A bulb, from the Rio Grande in South America, almost, if not entirely hardy; but we fear it has been lost at the dispersion of Dr. Herbert's collection, who had dry specimens of five more species of Gelasine.' [JD]. Introduced to Britain in 1838. [PD]. FS f.411/1848.
'A bulb of this plant flowered in the spring of 1838 in the greenhouse at Spofforth, and ripened its seed, having been sent there by J. W. Boott Esq. from Boston in North America, where it had been received from the Banda Oriental. Specimens occur amongst Tweedie's plants, in the Herbarium of Sir W. J. Hooker, gathered in the Banda Oriental and stony places near Rio Grande. The seedlings grow rapidly, and will probably flower at a year and a half old, and promise to be hardy with the protection of few leaves, and to retain their foliage in part at least through the winter. In the greenhouse the leaves continue growing throughout the winter, and, the stalk proceeding as in Phalocallis and Cypella from the axil of the outer leaf, the vegetation of the plant does not terminate necessarily with the inflorescence. The capsule is obovate, gaping at the upper part of the sutures; the seeds angular, flat at the top, attenuated at the base. Blue or violet appears to be the prevailing colour of the Genus, which is closely allied to Nemostylis of Nuttal.' [BM t.3779/1840].
History at Camden Park
Gelasine azurea is only listed in the 1845 and 1850 catalogues. Possibly brought to Camden by John Bidwill on his return from England in 1844. He may have obtained it from Herbert but at present we can only speculate on this.
Notes
Published Oct 20, 2009 - 03:35 PM | Last updated Jul 23, 2010 - 11:56 AM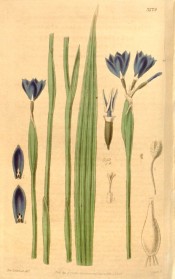 Family
Iridaceae
Category
Region of origin

South America

Synonyms

Gelasine azurea Herb.
Ferraria elongata Graham

Common Name
Name in the Camden Park Record

Gelasine azurea

Confidence level
high