Epiphyllum oxypetalum Haw.
Epiphytic cactus with flattened, much-branched stems, evening flowering, the flowers fragrant, white, reddish on the outside. [RHSD, Hortus].
Horticultural & Botanical History
'From the collection of the Messrs. Mackie of Norwich by whom I am favoured with the drawing from which the annexed engraving is made. This species was, I believe, one of Mr. Hitchin's collection, who received it from the continent under the name of Epiphyllum oxypetalum, (Cereus oxypetalus, D C.) which Dr. Pfeiffer, it appears, justly considers the same as the C. latifrons of Zuccarini, a much more appropriate name it must be confessed. It is certainly very nearly allied to our C. phyllanthus (Bot. Mag. t. 2692, the C. phyllanthus, var. flore majore of De Cand., C. Hookeri, Haw., and of Pfeiffer and Otto, Cactées, tab. 5.) These latter authors say, that it differs from C. Hookeri "par la crénelure de ces rameaux et par la forme de sa fleur:" but these distinctions are not very evident, even in their own figures. It flowers in August.' [BM t.3813/1841].
History at Camden Park
Epiphyllum latifrons is marked with a 'c' in an 1836 edition of Loddiges' catalogue held at Camden Park [CPA]. In William Macarthur's code, used and explained elsewhere, this means grown at Camden. It is almost certain that it was grown in the gardens around this time but may have been short lived as it did not appear in the catalogues.
Notes
Published Apr 01, 2010 - 01:41 PM | Last updated Jul 15, 2010 - 05:20 PM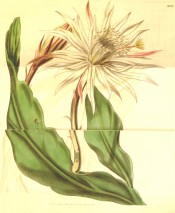 Family
Cactaceae
Category
Region of origin

Mexico to Brazil

Synonyms

Epiphyllum latifrons Zucc. ex Pfeiff.
Epiphyllum acuminatum K.Schum.
Epiphyllum grande (Lem.) Britton & Rose
Phyllocactus latifrons Walp.
Phyllocactus oxypetalus (DC.) Link ex Walpers
Phyllocactus grandis Lem.
Phyllocactus purpursii Weingart
Phyllocactus guyanensis Brongnart ex Labouret
Cereus latifrons Zucc.
Cereus oxypetalus DC.

Common Name

Queen of the Night, Dutchman?s pipe

Name in the Camden Park Record

Epiphyllum latifrons

Confidence level
high