Draba incana L.
Dwarf biennial or perennial herb with somewhat hairy, often toothed, lance-shaped leavesand a dense, hairy raceme of up to 40 white flowers. The leaves die at flowering time. To about 20cm. [RHSD, Hortus].
Horticultural & Botanical History
A native of the north of the British Isles and long known to botanists. Often grown in alpine beds and gardens. 'Our Border Flowers - Whitlow Grass. A widely scattered race of plants, many of them well adapted to all purposes that flowers can be applied to. Some of them are especially suitable for spring garden decoration. Draba verna as seen on a sunny morning in spring, to me at least, is a charming sight. Draba muralis is of much larger stature, and is met with often on ballast hills and railway embankments, but is worthy of a place in our borders. Draba incana is a desirable plant for the manner its seed pods are twisted, and is only to be met with in elevated localities; but these must give place to others of the family that are in possession of more attractive properties. […] All the species are of easy cultivation. The herbaceous kinds are increased by seed and division. The seed may be sown in the spring in sandy soil placed in a cold pit or frame. When the plants are large enough they must be carefully pricked out and attended to as they require. Division may take place either in spring or when the plants have done blooming. They are not very particular as to soil; sandy loam and peat, with a little leaf mould, with good drainage, and water when they require it, with a sunny aspect, will afford them a favourable medium to develope themselves in. It is to be regretted that these plants are so seldom met with.' [The Journal of Horticulture, Cottage gardener and Contry Gentleman p.273/1876]. A line drawing is given in Illustrations of the British Flora. [Fitch & smith – Illustrations of the British Flora p.20/1880].
History at Camden Park
Draba incana was marked with a 'c', indicating grown at Camden, in an 1836 Loddiges' catalogue held at Camden Park [CPA]. Certainly grown in the gardens at this time but probably short-lived in the climate of Camden. It is not listed in any catalogue.
Notes
Published Feb 15, 2009 - 03:58 PM | Last updated Jul 15, 2010 - 04:40 PM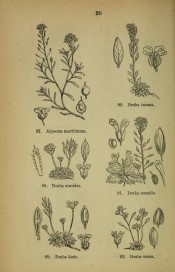 | | |
| --- | --- |
| Family | Brassicaceae |
| Category | |
| Region of origin | Arctic and sub-artic regions, including Scotland |
| Synonyms | |
| Common Name | Hoary Whitlow-grass, Twisted Whitlow-grass |
| Name in the Camden Park Record | Draba incana |
| Confidence level | high |