Dianthus japonicus Thunb. ex A.Murray
Hardy, glabrous, variable perennial with white to red flowers, the edges of the petals fimbriated. To 45cm. [Hortus].
Horticultural & Botanical History
Introduced to Britain in 1804. [JD]. 'Rohrbach sinks in this species [Dianthus barbatus L.] Thunberg's D. japonicus (see no. 28); but D. barbatus differs from it in the following points:- Stems 4-angular, and sometimes branched above; leaves lanceolate, plane, and not contorted at the base, 5-nerved; sheath of the radical leaves twice as long as broad; fascicles fastigiate; flowers of a darker red, denser, and consequently on shorter pedicels; bracts very scarious, lanceolate, as long as the calyx; calyx contracted at the base of the purple teeth ; petals broader, obovate-cuneate; and capsule oblong, so that they seem as different as any two pinks can well be. An experiment of Darwin's further illustrates the distinction. In his investigations into the power of mutual cross-fertilization of the commoner pinks, he found that if the flower of D. barbatus were fertilized by the pollen of D. superbus it yielded a proportional 81 seeds, when fertilized by the pollen of D. japonicus a proportional 66 seeds, relatively to the 100 seeds produced by its own pollen.' [Journal of the Linnean Society vol.29, p.382/1893]. Figured in Thunberg's Flora Japonica. [Flora Japonica t.23/1784]. FS t.1172.
History at Camden Park
Seed order to Hurst and McMullen, Seedsmen and Florists of London, on 8th April 1846. [MP A2933-1, p.132].
Notes
Published Sep 18, 2009 - 05:26 PM | Last updated Jul 16, 2010 - 02:18 PM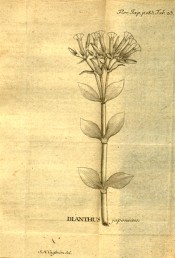 | | |
| --- | --- |
| Family | Caryophyllaceae |
| Category | |
| Region of origin | China and Japan |
| Synonyms | |
| Common Name | |
| Name in the Camden Park Record | Dianthus japonicus (scarlet) |
| Confidence level | high |