Dianthus chinensis L.
Annual or biennial with erect branched stems, lance-shaped leaves and flowers ranging in colour from white to dull red, often spotted and weakly bearded. Today garden forms are usually grown as an annual from seed, bearing single pink, red or white flowers, often with purple eyes and heavily fringed. To 70cm. [RHSD, Hortus].
Horticultural & Botanical History
'This species, unknown to the older botanists, is a native of China, hence its name of China Pink; but in the nurseries, it is in general better known by the name of Indian Pink. Though it cannot boast the agreeable scent of many of its congeners, it eclipses most of them in the brilliancy of its colours; there are few flowers indeed which can boast that richness and variety found among the most improved varieties of this species; and as these are easily obtained from seed, so they are found in most collections, both single and double. It is little better than an annual, but will sometimes continue two years in a dry soil, which it affects.' [BM t.25/1787]. The 'Indian Pink', quite distinct from the florist's pink, is said to have been introduced into Europe by Charles V. [Gard Chron 1853]. Chinese pinks were a very popular cottage garden plant and are still quite widely grown as a biennial or, with some strains, an annual, flowering in the first season. Introduced to Britain in 1713. [JD]. In later editions Paxton's Dictionary describes four varieties, giganteus, red; laciniata, red; laciniata flore-pleno, double red; Heddewigii, dark red; all from Japan. According to Allwood, Heddewiggi, the Japanese Pink, was not introduced to Europe until about 1860. Flore des Serres figured a number of varieties of Dianthus sinensis. [FS f.1150/1856]. 'In a genus so subject to produce varieties as Dianthus, it is not without hesitation that we consider the present one [Dianthus discolor] as a distinct species.' [BM t.1162/1808].
History at Camden Park
Listed in all published catalogues [H.91/1843]. Macarthur ordered seed of Dianthus chinensis from Hurst and McMullen, Seedsmen and Florists, London, on 8th April, 1846, suggesting that he was either trying to improve his stock of 'Indian pink', or that Dianthus Indicus was a different, unidentified plant. Seed of the Chinese Pink was also ordered from Warner & Warner, Seedsmen and Florists, Cornhill, on 12th April 1846 [MP A2933-1, p.131]. The pinks were described in the advertisement as new, double, fine [Gard. Chron.].
Notes
Today Dianthus chinensis usually refers to the 'Chinese pink' or 'Indian pink'. However, according to Allwood this species was an important parent of the perpetual-flowering carnation: 'It is therefore safe to say that the Perpetual-flowering carnation mainly owes its origins to Dianthus caryophyllus and Dianthus chinensis and in all probability to other Dianthus species.' [Allwood p.4] It is possible, although perhaps unlikely, that William Macarthur was referring to an early Perpetual-flowering carnation, first produced in France in the 1840s.
Published Apr 12, 2009 - 03:31 PM | Last updated Jul 16, 2010 - 02:31 PM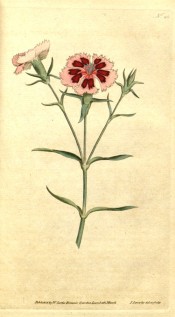 Family
Caryophyllaceae
Category
Region of origin

East Asia

Synonyms

Dianthus sinensis Link
Dianthus discolor Sims
Dianthus indicus Hort.
Dianthus fischeri Spreng.

Common Name

Chinese pink, Indian pink, Rainbow pink

Name in the Camden Park Record

Dianthus Indicus [1843]

Chinese Pink [1846]

Confidence level
medium