Dianthus caryophyllus Mathew's 'Ne Plus Ultra'
For generic information on the garden Carnation and Picotee see Dianthus caryophyllus L. Mathew's 'Ne Plus Ultra' is a red edged picotee. Introduced in 1849.
Horticultural & Botanical History
Florist's picotee: 'The same qualities as to size, petals, crown and clear white ground, as the Carnations; edge of petals smooth and well rounded. Those flowers which are free from blotch or stripe down the petal, below the coloured edging, are greatly to be preferred to those which are marked and pouncy.' [FC p.133/1855]. 'The Picotee is a term, used among Florists, for those varieties of the Carnation which have their colours like a fringe round each petal, instead of distinct stripes running through from the apex to the base: they are of more modern culture than the Carnation; and as regards those with yellow grounds, are more tender, almost requiring a greenhouse treatment in winter. Their introduction to this country was from Italy; but whether the produce of that country, or from whence originally obtained, Florists do not seem to know. Their excellence consists in strongly marked colours on a white or yellow ground; and if several colours unite in the same flower the better; it is also a perfection to obtain them rose-leaved; i.e. free from the jagged edging of the petals.' [BM t.2744/1827]. 'The term Picotee is quite appropriate to the general class of Carnation flowers seen in the French markets, a white or flesh-coloured ground, being dotted and speckled enough, with jagged edged petals additionally.' [FC p.75/1853].
The illustration does not show Mathew's 'Ne Plus Ultra' but two unusually coloured picotees. 'Mrs. Bewicke, of Close-House, Northumberland, having imported a considerable number of rare Carnations from Brussels, was kind enough to send us drawings of a number of them, from which we have selected the two given in the annexed plate, as most unlike any that we have hitherto seen. […] The singular colours of those introduced by Mrs. Bewicke forms a new feature and object of pursuit for the Florist; they were obtained with some difficulty by her from Brussels, where they were considered rare, and flowered with her, at Close-House, near Newcastle-on-Tyne in the summer of 1826.' [BM t.2744/1827].
History at Camden Park
In October 1849 a large consignment of plants was sent by Veitch and Sons, Exeter, to J. C. Bidwill at Camden Park. The consignment included named Carnations and Picotees, the present plant included. [MP A2943].
Notes
Published Apr 11, 2009 - 04:54 PM | Last updated Aug 26, 2011 - 03:10 PM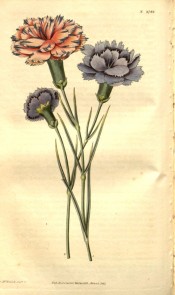 | | |
| --- | --- |
| Family | Caryophyllaceae |
| Category | |
| Region of origin | Garden origin, England |
| Synonyms | |
| Common Name | Florists' Picotee |
| Name in the Camden Park Record | Picotee Mathew's 'Ne Plus Ultra' |
| Confidence level | high |