Cupressus goveniana Gord.
Fully hardy conical shrub or tree with loosely arranged, ascending branches, long, drooping branchlets, and globular cones to 2cm long. To 22m. There are a number of garden varieties, such as pygmaea and aurea. [RHSE, Hortus, Hilliers'].
Horticultural & Botanical History
Introduced to Britain in 1848. [JD]. 'This fine Cypress was first discovered by Mr. Hartweg, on the western declivity of the mountains of Monterey in Upper California, within two miles of the sea shore, in company with Pinus muricata, forming a dense bush from 6 to 10 feet in height. It is at once distinguished from the other Californian species by its very much smaller cones and more spreading, slender, somewhat pendulous branches. It has the same beautiful bright green colour, both in its foliage and branches, as Cupressus macrocarpa, and is a most desirable evergreen, which will prove quite hardy.
It has been named in compliment to James Robert Gowen, Esq., the Society's present Secretary.' [JHS iv 295/1849].
History at Camden Park
Listed only in a hand-written entry in an 1850 catalogue held at the Mitchell Library and inscribed on the front Wm. Macarthur 23rd Dec. 1854 [ML 635.9m], but certainly present in the gardens at this time.
Notes
Cupressus goveniana Eng. = Cupressus sargentii Jeps., similar to, and considered by some to be a form of, Cupressus goveniana Gord.
Published Aug 01, 2009 - 11:40 AM | Last updated Jul 16, 2010 - 04:58 PM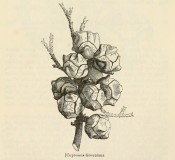 Family
Cupressaceae
Category
Region of origin

California

Synonyms

Cupressus californica Carrière
Cupressus pygmaea Sarg.
Callitropsis goveniana (Gord.) D.P.Little

Common Name

Gowen cypress, Californian cypress

Name in the Camden Park Record

Cupressus Goveniana

Confidence level
high