Crossyne guttata (L.) D. & U.Müller-Doblies
Crossyne guttata has 4-6 strap-shaped, spreading leaves, to 11cm wide, and umbels of up to 200 small, maroon or dusky pink flowers on rigid pedicels, radiating out to form an almost complete sphere. To 50cm. [CECB].
Horticultural & Botanical History
First botanically described as Amaryllis guttata by Linnaeus in 1753 [Sp. Pl. p.294/1753]. Classified as Crossyne guttata by D. Müller-Doblies and U.Müller-Doblies in 1994 [Feddes Repertorium. Zeitschrift für Botanische Taxonomie und Geobotanik. Berlin. vol.105, p.357/1994]. There is still confusion in the popular literature between Crossyne and Boophone. Here I have adopted the classification of the Colour Encyclopedia of Cape Bulbs. 'The name Crossyne came into popular use as recently as 1994. Previously, C. guttata and C. flava were placed in Boophone under the misconception that they were closely related to B. disticha.' [CECB]. Synonyms given here also reflect previous confusion.
Introduced to Britain in 1752. [JD]. John Lindley commented: 'This plant, although very common in collections, and cultivated in England for at least several years, produces its flowers so seldom, that there are few persons who have seen them. Even Mr. Herbert, to whom every thing relating to this tribe of plants is familiar, appears to know its blossoms only from a specimen in Mr. Lambert's Herbarium. The subject from which this figure was taken, flowered in the Conservatory of J. H. Slater, Esq., of Newick Park, near Uckfield, in 1825. A native of the Cape of Good Hope. Mr. Herbert recommends it to be grown in a moderately light loam, the neck of the bulb being kept above ground, and sharp white sand placed in contact with the bulb. In the autumn the leaves appear; the roots should at that time be well watered, and removed to a hothouse, where they ought to remain as long as they continue to grow. Afterwards they should be kept quite dry, but not too hot.' [BR f.1153/1828].
What appears to be Crossyne guttata is beautifully illustrated in Flore des Serres incorrectly identified as Brunsvigia ciliaris [FS vol.3, f.192-3/1847]. A pink form is also figured in this publication as Brunswigia toxicaria [FS f.434/184.
History at Camden Park
Listed in the 1845 and 1850 catalogues [B.55/1845]. Although easy to grow this plant rarely flowers under Australian conditions.
Notes
Published Jan 15, 2009 - 12:45 PM | Last updated Jul 09, 2012 - 12:25 PM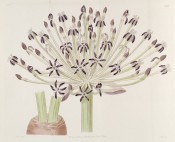 Family
Amaryllidaceae
Category
Region of origin

South Africa

Synonyms

Crossyne ciliaris Salisb.
Boophone ciliaris (L.) Herb.
Boophone amaryllidae M.Roem.
Boophone guttata (L.) Herb.
Amarylis ciliaris L.
Amaryllis guttata L.
Coburgia ciliaris (L.) Herb. ex Sims
Haemanthus guttatus Banks ex Kunth

Common Name
Name in the Camden Park Record

Buphane ciliata

Confidence level
high