Crocus flavus Haw.
A winter or spring flowering crocus with narrowly linear leaves with a white mid-rib, and large cup-shaped flowers of bright yellow. [RHSD, Hortus].
Horticultural & Botanical History
Crocus flavus is the parent of many garden forms, of which 'Cloth of gold' is one of the oldest. It has long been in cultivation and was well known to Gerard and Parkinson. 'Mr. Glasse's Gardening Book no.III', gives advice on 'How to choose Dutch Bulbs'. 'If you want crocus do not buy Scotch; they are shabby and not half as good as Large Yellow, Cloth of Gold, Purple or White (all Dutch varieties)'. [Reviewed in The Gardeners Chronicle, 1858].
Curtis's Botanical Magazine figures Crocus sulphureus, synonym C. vernus flavus striatus, the 'Old cloth of gold crocus': 'This variety is rarely met with in our garden; nor did we ever see any considerable number of specimens of it except at Mr. Williams's Nursery, Turnham Green.' This plant is certainly Crocus flavus. [BM t.938/1806, BM t.1384/1811]. This periodical also figures a form of Crocus vernus with a bright yellow flower: 'Linnaeus considers the Crocus or Saffron of the shops, which blows invariably in the autumn, and the spring crocus, with its numerous varieties, (of which Parkinson, in his "Garden of Pleasant Flowers", enumerates no less than 27) as one and the same species: other Botanists have considered them as distinct, notably Professor Jacquin, whose opinion on this subject we deem to be decisive. We have figured the yellow variety, which is the most commonly cultivated in our gardens, although, according to descriptions in the Flora Austriaca, the Crocus vernus, in its wild state, is usually purple or white.' The yellow variety is probably Crocus flavus. [BM t.45/1786].
History at Camden Park
Listed in all published catalogues [B.100/1843]. Possibly the plant received per 'Sovereign' February 1831 as 'crocus yellow'. [MP A2948-2]. Although Macarthur had difficulty growing crocus he persisted with his attempts to introduce them, requesting purple, striped and white varieties from Mr. Abbott of Hobart on 16th June 1846. [MP A2933-2 p.159]. See also Crocus susianus Ker-Gawl.
Notes
Published Oct 18, 2009 - 04:17 PM | Last updated Jul 23, 2010 - 11:48 AM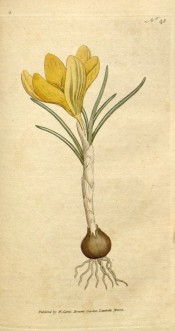 Family
Iridaceae
Category
Region of origin

Caucasus

Synonyms

Crocus aureus Sibth. & Sm.
Crocus moesiacus Ker-Gawl.

Common Name

Dutch yellow crocus. This plant has also gone under the name of Cloth of gold crocus.

Name in the Camden Park Record

Crocus Vernus cloth of gold

Confidence level
medium