Consolida ambigua (L.) P.W.Ball & Heyw.
Fully hardy annual with fern-like leaves and tall spires of flowers in pink, white or violet-blue. Many garden cultivars exist. To 1.2m. [RHSE, Hortus].
Horticultural & Botanical History
Consolida ambigua, the 'Larkspur', is a more likely identification than the common garden plants known as 'Delphinium' today, which are predominantly hybrids of Delphinium species. Delphinium ajacis was introduced to Britain in 1573 from Switzerland. [JD]. Don. 'Lark's-spur. Delphinium, or Consolida regalis. It grows to a yard high, the leaves are a dark green, and the flowers commonly a fine blue, but sometimes a purple. It is sown every year in gardens, and flowers most part of the summer. This is esteemed a vulnerary plant, of a healing nature. Matthiolus says it cures the rheums and inflammations of the eyes; mixed with honey & drank with sweet wine it removes the sharpness of urine. It likewise closes up fresh wounds and heals ulcers.' Blackwell pl.26/1737.
History at Camden Park
Listed in all published catalogues. Larkspur seed, 'German, 12 kinds, extra fine, was ordered from Warner & Warner, Seedsmen and Florists, Cornhill, on 12th April 1846. [MP A2933-1, p.131].
Notes
Delphinium ajacis Ledeb. (1842-1853) = Delphinium orientale J.Gay
Published Feb 04, 2009 - 05:17 PM | Last updated Jul 29, 2010 - 06:02 PM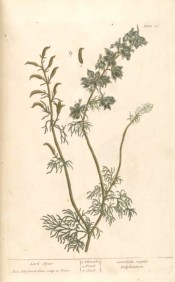 Family
Ranunculaceae
Category
Region of origin

Mediterranean

Synonyms

Consolida ajacis (L.) Schur
Delphinium ajacis L.
Delphinium ambiguum Mill.

Common Name

Larkspur, Annual larkspur

Name in the Camden Park Record
Confidence level
medium