Clarkia tenella (Cav.) F.H. & M.E.Lewis
Frost tender, erect, sometimes decumbent, perennial with branched stems, elliptical leaves to 6cm, and lavender to blue or deep red-purple flowers in summer. To 50cm. [RHSD].
Horticultural & Botanical History
'When a little purple-flowered Evening Primrose was introduced some years since from Chile, it was immediately recognised as what had been called Oe. tenella by the Spanish Botanist Cavanilles. […] In course of time it was neglected, for its novelty was gone, and its flowers wanted size; so that at last the little Oenothera tenella was only to be found in botanical collections. In 1829 the collectors who went out to Chile and the islands of the Pacific with Captaon Beechey, returned; and Mr. Lambert procured from them, among other things, specimens of another Evening Primrose, the Oe. tenuifolia, upon which ripe seeds were found. […] It differs from Oe. tenella in having longer and more channelled leaves, and much larger and more shewy flowers; for while in Oe. tenella the flowers are half hidden by the leaves, in Oe. tenuifolia the leaves can scarcely be discovered for the flowers. Beyond these differences we can discover nothing worthy of notice.' [BR f.1587/1833]. The Gardeners Chronicle, in a discussion of annuals suitable for bedding, described Oenothera tenella tenuifolia as 'one of the neatest species of a favourite tribe. It grows from nine to twelve inches high, with small narrow leaves, and numerous large conspicuous purple salver-shaped flowers, varying in several varieties to rosy-purple.' [Gard. Chron. 1852]. Oenothera tenella was introduced to Britain in 1823. [Don].
History at Camden Park
Listed in the 1845, 1850 and 1857 catalogues [H.172/1845].
Notes
Oenothera tenella Bert. ex Steud. (1841) = Oenothera ramulosa Steud.
Oenothera tenella A.Gray (1873) = Oenothera epilobioides Nutt.
According to some authors Clarkia romanzovii A.Nelson & J.F.Macbr., which see, is identical to Clarkia tenella. I have treated them as separate but related species here.
Published Oct 12, 2009 - 04:43 PM | Last updated Jul 28, 2010 - 02:58 PM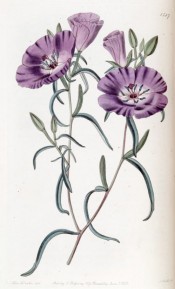 Family
Onagraceae
Category
Region of origin

Argentina

Synonyms

Oenothera tenella Cav.
Godetia tenella Steud.

Common Name

Lady in Blue

Name in the Camden Park Record

Oenothera tenella Cav.
Godetia tenella Steud.

Confidence level
high