Clarkia romanzovii A.Nelson & J.F.Macbr.
Perennial with lance-shaped leaves and violet-coloured flowers in summer. To 30cm. [RHSD].
Horticultural & Botanical History
'Native of the North-west Coast of America, where it was observed by Dr. Chamisso, the naturalist of the late expedition of discovery sent from Russia, under the command of Lieutenant Kotzebue. The species is named in compliment to Count Romanzow, the Minister of the Russian Marine.' [BR f.562/1821]. The plant figured in Curtis's Botanical Magazine as Oenothera tenella appears to be O. romanzovii Ledeb. 'Mr. Don, to whom we are indebted for pointing out to us that our plant was the tenella of Ruiz and Pavon, considers it to be the same species which has gone under the name of Oenothera Romanzovii; but if so, the former name has the right of priority, as well as being more appropriate.' [BM t.2424/1823]. This may also be the plant described by Don under the name Oenothers tenella. According to Don O. romanzovii was introduced to Britain in 1817.
History at Camden Park
Listed in the 1845, 1850 and 1857 catalogues [H168/1845].
Notes
According to some authors Clarkia romanzovii A.Nelson & J.F.Macbr. is identical to Oenothera tenella Cav. or a variety. I have treated them as separate but related species here. See also Clarkia tenella (Cav.) F.H. & M.E.Lewis.
Published Oct 12, 2009 - 04:28 PM | Last updated Jul 28, 2010 - 02:57 PM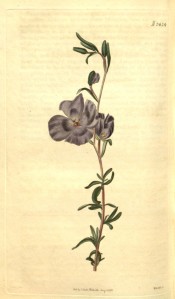 Family
Onagraceae
Category
Region of origin

North America

Synonyms

Oenothera romanzovii Lebed.
Godetia romanzowii Spach.

Common Name

Clarkia

Name in the Camden Park Record

Oenothera Romanzovii

Confidence level
high