Chasmanthe aethiopica (L.) N.E.Br.
A shade-loving, clump-forming cormous perennial with lance-shaped leaves and one-sided racemes of red or orange flowers with maroon throats and yellow-striped tubes from spring to early summer. To 70cm. [RHSE, Hortus, CECB].
Horticultural & Botanical History
'For the means of presenting this beautiful plant to the public, we are indebted to the Rev. Sackville Bale, who, aware of the rareness of its flowering, most kindly remitted it to us from his collection at Withyham, near Tunbridge, were it flowered by the help of the stove in February. It flowered still earlier at Messrs. Russell and Wilmot's Nursery, at Lewisham, who have had the goodness to send us the spike with ripe seeds, and is at this time coming into flower in the greenhouse of Edward Woodford, Esq. Vauxhall. Had our drawing been fortunately taken before the upper flowers were expanded, the pyramidal form would have been an advantage to our figure. Cultivated by Miller in 1759. Flowers in May and June, according to Hort. Kw. The trivial name (given it by Cornuti) of Aethiopian, is not a very eligible one for a plant peculiar to the Cape and adjacent country.' [BM t.561/1802]. The flower figured in the Botanical Magazine gives an impression of being two-sided but is otherwise an accurate representation.
Probably first cultivated in Britain at the Chelsea garden by Miller about 1759. [ABR pl. 32/1798 as Antholyza ringens, ABR pl.210/1802]. BR f.1159/1828.
History at Camden Park
Listed in all published catalogues [B.42/1843]. Chasmanthe bicolor (Gasp.) N.E.Br., a very similar species but with flowers in a two-ranked raceme, is naturalised in the gardens at Camden Park. It is possible that this plant, rather than Chasmanthe aethiopica, was introduced to the gardens before 1843 but it is probably a later introduction.
Notes
Published Oct 18, 2009 - 03:35 PM | Last updated Jul 23, 2010 - 11:47 AM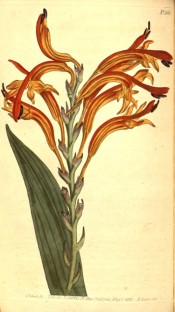 Family
Iridaceae
Category
Region of origin

South Africa, Cape district

Synonyms

Antholyza aethiopica L.
Antholyza ringens Andr.
Antholyza praelta Delile

Common Name

Aunt Eliza, Cobra lily

Name in the Camden Park Record

Antholyza Aethiopica

Confidence level
high