Cedrus deodara (D.Don.) G.Don
Fully-hardy evergreen conical tree with spreading branches, pendant tips, dark bark, needle-like leaves in whorls of 20-30, and glaucous, barrel-shaped female cones, to 12cm long, ripening brown from green. To 40m by 10m. More ornamental varieties, particularly with golden foliage, are commonly grown now, but the first of these was not introduced to gardens until 1866. [RHSE, Hortus, Hilliers'].
Horticultural & Botanical History
Introduced to Britain in 1822. [JD]. There are many references to the Deodar in The Gardeners Chronicle of the 1840s and 1850s, creating interest as both a thing of beauty and a potentially useful timber species. 'The beauty of the Deodar or Indian Cedar has rendered it so universal a favourite, and has led to such extensive plantations of it in the country, that everyone is desirous of knowing whether its quality as a timber tree at all corresponds with its value as an ornamental object. That Deodar wood is of a high value in India, we know from a great variety of evidence.' [Gard. Chron. 1854]. In Australia the Deodar has in the past been mistaken for Cedrus libani A.Rich. which see. Leaves, cones and seeds of Pinus Deodara are illustrated in Die Coniferen. [Die Coniferen t.XXII/1840-42].
History at Camden Park
Pinus deodara is marked with a 'c' in an 1836 edition of Loddiges' Nursery catalogue held at Camden Park [CPA]. In William Macarthur's code, used and explained elsewhere, this means grown at Camden. It is listed in all published catalogues [C.21/1843]. The Deodar obviously grew well in NSW. On 24th December 1844 Macarthur wrote to John Bailey of Adelaide: 'We received the original plant of the Deodar only a little more than two years since of course quite small. It is now nearly six feet high and of great beauty.' [MP A2933-2, p.25]. A mature specimen survives in the gardens.
Notes
Published Jul 14, 2009 - 04:43 PM | Last updated Jul 29, 2010 - 03:22 PM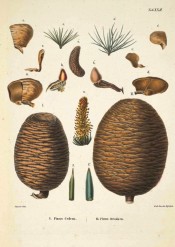 | | |
| --- | --- |
| Family | Pinaceae |
| Category | |
| Region of origin | Western Himalayas |
| Synonyms | |
| Common Name | Deodar, Deodar cedar |
| Name in the Camden Park Record | Cedrus Deodara - Deodara Cedar |
| Confidence level | high |