Campanula rapunculoides L.
Fully hardy perennial with deep blue flowers in summer. To 90cm. [RHSD, Hortus].
Horticultural & Botanical History
'This plant [Campanula infundibuliformis] was raised at Chelsea, from seeds gathered in the Vienna garden, in 1817, under the name of Campanula lamiifolia; but it cannot be the lamiifolia of the Flora Caucasica, which appears to be our macrophylla (No. 912) the allariaefolia of Hortus Kewensis. It may, however, be Hornemann's plant; or it may perhaps be rapunculoides variety alpha of the Flora Caucasica. It differs, however, from all of these in not having the sinuses of the calyx reflexed, as well as in the form of the leaves. Communicated by Mr. Anderson, curator of the Apothecaries' garden at Chelsea, in july, 1823.' [BM t.2632/1826].
History at Camden Park
Listed in the 1845, 1850 and 1857 catalogues [H.45/1845].
Notes
Campanula rapunculoides Pall. ex Steud. (1840) = Campanula bononiensis L. [See Campanula persicifolia var. maxima Curt.].
Published Sep 28, 2009 - 04:29 PM | Last updated Jul 16, 2010 - 10:46 AM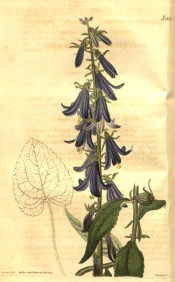 Family
Campanulaceae
Category
Region of origin

Europe, Asia

Synonyms

Campanula pulcherrima Hort.
Campanula infundibuliformis Sims

Common Name

Creeping bellflower, Rover bellflower

Name in the Camden Park Record

Campanula rapunculoides

Confidence level
high