Calostemma purpureum R.Br.
Deciduous or evergreen bulbous plant, depending on growing conditions. The leaves may die back in summer, the umbels of 10-20 purple flowers appearing in summer or autumn, on a scape to 50cm long, followed by the leaves. [RHSD, FNSW].
Horticultural & Botanical History
First botanically described by Robert Brown in 1810 [Prodr. Fl. Nov. Holl. p.154, 298/1810].
'We were favoured with the plant from which our drawing was taken by Edward Barnard, Esq. of the Colonial Department, who flowered it in July last, at Bexly in Kent, by setting the pot halfway up in water. The bulb was imported from New South Wales in 1817. It was discovered in the expedition to the south-westward from Port Jackson, beyond the blue mountains, and was sent to Mr. Barnard, together with a drawing by Mr. Lewin, under the name of Pancratium Macquaria, given to it in honour of the Governor of New South Wales. But Mr. Robert Brown, had long before found the same species upon Mount Brown, at the head of Spencer's Gulf on the south-west side of New Holland, and published it in his Prodromus, as above quoted, under the name which we have adopted.' [BM t.2100/1819]. BR f.422/1819, FS f.1135/1856.
History at Camden Park
Listed in all published catalogues [B.64/1843]. Calostemma was recorded as received per 'Sovereign' February 1831. [MP A2948]. It seems strange that Macarthur would import native bulbs but it was perhaps easier to import from England at this time than to collect plants away from centres of population. Seeds of Calostemma rubra, almost certainly C. purpurea, were presented to the Sydney Botanic Gardens by Messrs. Macarthur in the same year. [RBGS AB].
Notes
Published Apr 06, 2009 - 01:02 PM | Last updated Jun 26, 2012 - 02:42 PM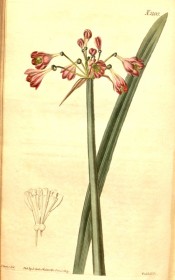 Family
Amaryllidaceae
Category
Region of origin

Australia

Synonyms

Calostemma purpureum R.Br. var. purpureum
Pancratium macquaria A.Cunn.

Common Name

Garland lily

Name in the Camden Park Record

Calostemma purpurea

Confidence level
high