Calandrinia ciliata DC. var. menziesii (Hook.) Macbr.
Calandrinia ciliata var. menziesii is an annual with fleshy, linear, grey-green leaves, to 10cm long, on spreading, erect stems and solitary, axillary, crimson, rose-red, occasionally white, flowers in late summer. To 60cm. [RHSD, Hortus].
Horticultural & Botanical History
late summer. To 60cm. [RHSD, Hortus].
'Of all the purslane tribe this [Calandrinia speciosa] is unquestionably the handsomest. On a hot dry bank or bed, when the sun is shining full upon it, with all its large rich crimson blossoms fully expanded, and reposing upon the soft velvety bed formed by its succulent leaves, it is a most beautiful object, resembling indeed C. pilosiuscula, but very far superior to it. A native of northern California, whence its seeds have been recently sent by Mr. Douglas.' [BR f.1598/1833].
'This plant [Calandrinia speciosa] was received at the Glasgow Botanic Garden, from Mr. Young of Epsom, with the name here given, which we find nowhere recorded, and without any mention of its native country, which, however, is probably the same with that of its near allies lately figured, C. discolor (Bot. Mag. t. 3357), and C. grandiflora (t. 3369), namely Chili. From both those species it differs in the more shrubby stem, particularly at the base, in the differently shaped leaves, and in the size of the flower, which is larger than that of any species with which we are acquainted. With us, it has been hitherto kept in an airy part of the stove, where it flowered in July.' [BM t.3379/1835]. It is of interest that the Botanical Magazine makes no reference to the Botanical Register article and figure of some two years earlier.
Johnson's Dictionary gives dates of introduction for C. ciliata and C. speciosa as 1823 and 1831 respectively. Interestingly ciliata is listed as a stove plant and speciosa as hardy. C. speciosa was figured as the frontispiece of the Floricultural Cabinet. [FC 1834].
History at Camden Park
Listed in all published catalogues [H.33/1843].
Notes
Calandrinia speciosa Lehm. (1831) = Calandrinia discolor Schrad. from Chile.
Published Feb 05, 2009 - 05:11 PM | Last updated Jul 29, 2010 - 05:29 PM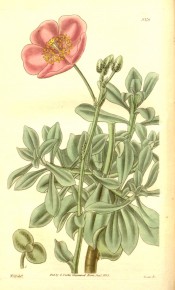 Family
Portulacaceae
Category
Region of origin

South west USA

Synonyms

Calandrinia speciosa Lindl.
Calandrinia menziesii Torr. & Gray
Talinum menziesii Hook.

Common Name

Rock purslane

Name in the Camden Park Record

Calandrina speciosa

Confidence level
high