Bomarea salsilla (L.) Mirb. var. oculata
Frost-tender, tuberous-rooted, twining, climbing perennial with 1-4 flowers per stem, pink with green tips outside and copiously spotted with claret brown inside. It seems to be a very variable plant with descriptions in the literature varying accordingly. [RHSD, Baker Am.]. See also Bomarea salsilla (L.) Mirb.
Horticultural & Botanical History
It was first figured under the name Alstroemeria oculata in Loddiges' Botanical Cabinet: 'This appears to be a species hitherto unknown: we received seeds of it in 1830, from our valued friend, Mr. George Eglinton of Valparaiso: it is one of the climbing kinds. The first leaves are consistently broader and more undulated than those of our drawing. It grows to upwards of two feet in height, and flowered in June: the flowers, like those of all the genus, are beautiful.' [LBC no.1851/1832].
It was also figured under this name in Curtis's Botanical Magazine: 'Various species of this elegant and beautiful Genus abound in South America, especially on the side next the Pacific. Forty-nine kinds are enumerated in Schultes' Systema Vegetabilium. Several new ones exist in our Herbarium, and others are to be met with in the stoves and greenhouses of this country. The present species can boast of flowers, which though perhaps the smallest of the Genus, are among the most desirable for gracefulness and beauty, and remarkable for the eye-like spots in the centre of each inner petal. It appears to have been first discovered at Valparaiso by Mr. Cuming, with whose collections it has been distributed, marked, No. 345, in 1830, "These specimens," Dr. Graham observes, "differ from the cultivated plant only in being more drawn out, in the peduncles being occasionally three-flowered, in the leaves being more elliptical, less glaucous, and free from undulation in the edges, but in every essential particular the two appear to be the same." Our drawing was made by Mr. M'Nab at the Edinburgh Botanic Garden, in April, from a plant sent to Dr. Graham by Mr. Knight.' [BM t.3344/1834]. It is now considered to be synonymous with Bomarea salsilla (L.) Mirb., at best a naturally occurring variety.
Introduced to Britain under this name in 1831. [PD].
History at Camden Park
Alstroemeria oculeata first appeared in the catalogues in 1843. It was not listed in the 1845 catalogue, although A. salsilla was. They are probably the same plant.
Notes
Published Jan 11, 2009 - 02:15 PM | Last updated Mar 24, 2012 - 01:48 PM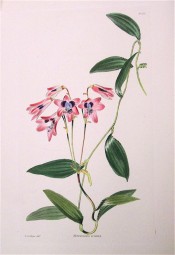 | | |
| --- | --- |
| Family | Alstroemeriaceae |
| Category | |
| Region of origin | South America |
| Synonyms | Alstroemeria oculata Lodd. |
| Common Name | |
| Name in the Camden Park Record | Alstroemeria oculeata |
| Confidence level | high |