Blandfordia nobilis Sm.
Frost-tender rhizomatous perennial with finely-toothed, linear leaves, to 80cm long, crowded at the base, and loose racemes of up to 15 copper red to orange flowers, stained yellow, sometimes entirely yellow, in early summer. To 60cm. [RHSD, Hortus].
Horticultural & Botanical History
'This plant was first named by Sir James Edward Smith in honour of the Marquis of Blandford, now Duke of Marlborough; the one before assigned to His Grace by Mr. Andrews in the Botanist's Repository being the Galax of Linnaeus. The flower of the Blandfordia nobilis is of very long duration, the corolla retaining its colours even after the capsule is prolonged far beyond its mouth, perhaps till the seeds are ripe. Mr. Brown refers it to the natural order of Hemerocallideae, an order constructed from the first section of Jussieu's Narcissi, exclusive of the genus Gethyllis. Native of New Holland, in the neighbourood of Port Jackson, where another species of the same genus occur and is recorded by Mr. Brown under the name of grandflora; but this has not, that we have heard of, been introduced into this country. Communicated by Messrs. Whitley, Brame; , and Milne, from their extensve collection of exotics at Fulham, in May last.' [BM t.2003/1818].
Lindley considered his specimen of Blandfordia grandiflora to be distinct from Blandfordia nobilis: 'The species is distinguished from [Blandfordia nobilis] by the greater size of its flowers, [and] by the colour of its leaves, which are bright yellowish green.' [BR f.924/1825]. Introduced to Britain in 1803. [JD]. BR f.286/1818.
History at Camden Park
Listed in the 1850 and 1857 catalogues [B.50/1850]. See also Blandfordia grandiflora R.Br. Blandfordia nobilis occurs in coastal areas mainly, although spreading to the Ranges. Although growing in more southerly areas than Blandfordia grandiflora it does overlap the latter in the north of its range. Macarthur could well have collected this species in the Illawarra region.
Notes
Published Jan 03, 2010 - 05:05 PM | Last updated Jul 15, 2010 - 02:04 PM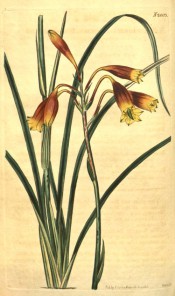 | | |
| --- | --- |
| Family | Blandfordiaceae |
| Category | |
| Region of origin | Eastern Australia, eastern NSW |
| Synonyms | Blandfordia grandiflora Lindl. |
| Common Name | Christmas bells |
| Name in the Camden Park Record | Blandfordia nobilis |
| Confidence level | high |