Bellis perennis L.
Fully hardy, small stoloniferous perennial with white to crimson flowers from late winter throughout summer. Grown in gardens for centuries, there are many large flowered and double garden forms, such as B. perennis hortensis which is both large-flowered and double. [See Bellis perennis L. flore pleno]. [RHSE, Hortus].
Horticultural & Botanical History
Paxton's Dictionary lists the varieties fistulosa, red; hortensis, red; and prolifera, striped. The Floricultural Cabinet [FC p.1/1851] and Flore des Serres [FS f.584/1850] figure a number of new varieties, all double and large flowered, pure white, deep pink, rose pink with a pale centre, pale rose pink with a deeper centre, pale rose speckled with deeper pink, and variegated deep pink and white. Once used to treat wounds and grown in gardens for this purpose. [HB] It has found wider medicinal uses, for treatment of gout, rheumatism, ague, migraine and colds. Extracts mixed with milk were also used to stunt the growth of children and dogs, and keep them small. [McLeod]. 'The Small Wild Daisy. Bellis sylvestris minor. The stalks grow about four inches high, the leaves are a light green, the flowers white set about a yellow thrum & and sometimes red round ye edges & red underneath. It grows in fields & meadows flowering in March, April and May. This accounted a traumatic & vulnerary plant, being used in wound drinks; the leaves are esteemed good to dissolve congealed and coagulated blood, help ye pleurisy and peripneumonia. Some commend a decoction given inwardly and a cataplasm of ye leaves applied outwardly as extraordinary remedies in the King's Evil.' [Blackwell pl.200/1737].
History at Camden Park
Listed in all published catalogues [H.26/1843]. Possibly grown as a medicinal herb but a very popular garden flower in England.
Notes
Published Sep 14, 2009 - 05:20 PM | Last updated Jul 14, 2010 - 04:10 PM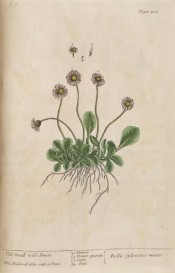 Family
Asteraceae
Category
Region of origin

Europe

Synonyms

Bellis alpina Hegetschw.
Erigeron perennis Sessé & Moc.
Aster bellis Krause

Common Name

Common daisy, Lawn daisy, English daisy

Name in the Camden Park Record

Bellis perennis

Confidence level
high