Belamcanda chinensis (L.) DC.
Half-hardy, tuberous-rooted, clump-forming herbaceous perennial with sword-shaped basal and stem leaves, the loosely branched stems bearing a succession of up to 12, wide-opening, bright yellow to orange-red flowers with maroon spots, followed by black seeds, in summer. To 90cm or more. [RHSE, Hortus].
Horticultural & Botanical History
'In that elaborate and inestimable work, the Hortus Malabaricus, we have a good figure of the plant here exhibited, accompanied by a minute description; the author informs us that it grows spontaneously in India, attaining the height even of five or six feet, and affecting a sandy soil; the natives consider it as an antidote to poisons in general, and regard the bruised root as peculiarly efficacious in curing the bite of the serpent, called Copra de Copella. We raised plants of it last year from seeds imparted to us by J. Ibbettson, Esq. of the Admiralty; this year, during the months of August and September, many of them have flowered, and capsules are forming which have every appearance of producing perfect seeds; the root of this plant is yellow, and tuberous like that of the Iris, the leaves also greatly resemble those of that tribe, it grows to the height of about three feet, and produces a considerable number of flowers in succession, each of which is of short duration. The root and radical leaves as represented on the plate are much smaller than in plants which have been long established.
Our plants stood in pots in the open ground through the winter of 1790-1 without injury, but it must be remembered, that the weather during that period was uncommonly mild; it will be safest therefore to consider it as a tender herbaceous plant.' [BM t.171/1791].
'It has been long cultivated, and endures our climate very well, if planted in a warm situation. We have had it for many years in a border close to the front of the stove.' [LBC no.1874/1832]. Introduced to Britain in 1759. [JD].
History at Camden Park
Listed only in the 1850 and 1857 catalogues [B.386/1850].
Notes
Published Oct 18, 2009 - 03:07 PM | Last updated Jul 23, 2010 - 11:47 AM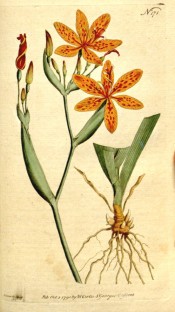 Family
Iridaceae
Category
Region of origin

Eastern and northern Asia

Synonyms

Belamcanda punctata Moench
Pardanthus chinensis (L.) Ker-Gawl.

Common Name

Blackberry lily, Leopard lily

Name in the Camden Park Record

Pardanthus Chinensis

Confidence level
high