Begonia insignis Graham
Fibrous rooted begonia with an erect stem, swollen at the nodes and spotted, toothed, slender pointed leaves and abundant rose-coloured flowers. [RHSD, Hortus].
Horticultural & Botanical History
'Stems [of Begonia incarnata] about four feet in height, swollen at the joints, quite smooth, and marked with a few short white streaks. Leaves oblique, about six inches in length, dark green, waved at the edges, and thinly set with short hairs on the surface and margins. Flowers pink, in clusters of about sixteen blossoms, suspended on footstalks about four inches in length. Flowers throughout the season.' [FC p.272/1846]. 'We received a plant of this beautiful species from the Botanic Garden, Berlin, in spring last, under the name of Begonia ciliata, but it differs entirely from the description of that species in Kunth, and I think from every other which is recorded. Its foliage is not equal to B. argyrostigma [H.16], nor the appearance of its stem to B. dipetala [H.17], but it surpasses these and perhaps every other cultivated species in the gracefully drooping clusters of its large, bright rose-coloured flowers. It adds greatly to its value that it flowered most freely in the stove during December.' [BM t.2900/1829]. Introduced to Britain as insignis in 1826 and as incarnata in 1829. [JD].
History at Camden Park
Begonia insignis was included among desiderata to Loddiges' nursery , 13th February, 1848. [MP A2933-1, p.172]. Begonia incarnata was included among desiderata in a letter dated 16th April 1846 [MP A2933-1, p.147]. It was also requested of Loddiges' nursery at the same time as insignis. Although there is no record of it being received and it did not subsequently appear in the catalogues under either name it may have been received as Macarthur wrote in a letter dated 1st February, 1849 'the Begonias [ … ] multiplied by striking cuttings from them' [MP A2933-1, p.185].
Notes
Published Jun 20, 2009 - 02:22 PM | Last updated Jul 14, 2010 - 04:56 PM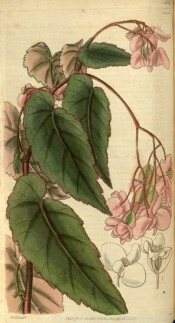 | | |
| --- | --- |
| Family | Begoniaceae |
| Category | |
| Region of origin | South America |
| Synonyms | Begonia incarnata Link. and Otto |
| Common Name | |
| Name in the Camden Park Record | Begonia incarnata, Begonia insignis |
| Confidence level | high |