Begonia fuschioides Hook.
Frost-tender, shrub-like fibrous-rooted begonia with slender stems and sickle-shaped, toothed leaves, with a reddish tinge when young, and elegant. drooping, fuchsia-like pink to red flowers in panicles in winter. To 75cm by 45cm. [RHSE, Hortus].
Horticultural & Botanical History
It was collected in New Grenada by Mr. Purdie on behalf of the Horticultural Society in 1845. The plant was apparently eaten by mule drivers (arrieros) to alleviate thirst. [MB p.217/1847]. 'Among the many favourites of recent introduction in our plant houses, few are more deserving of attention than the Fuchsia-like Begonia. Its graceful habit, the brilliant colour of its flowers, the short time required to have plants in a blooming state, and the abundance with which its blossoms are produced render it worthy of universal cultivation'. [Gard. Chron. 1851]. 'A most lovely new Begonia, detected by Mr. Purdie on the Ocana mountains of New Grenada, during his mission for the Royal Gardens of Kew. It is easily propagated by cuttings, grows rapidly, bears small but copious foliage, and is a plant to which he particularly requested our attention, on account of the copious, elegant, drooping, red flowers, at first sight resembling those of a Fuchsia; and because it is much eaten to allay thirst by the Arrerios (mule-drivers) of the country. He also observes that the globular buds (meaning, probably, the buds of the fertile blossoms, which are globular) contain a fluid, which, together with the acid of the flowers, proves highly grateful in the dry season and where there are no rivers.' [BM t.4281/1847]. FS pl.X 3e Liv./1847.
History at Camden Park
Listed only in the 1857 catalogue [T.141/1857].
Notes
Published Jun 20, 2009 - 12:45 PM | Last updated Jul 14, 2010 - 04:57 PM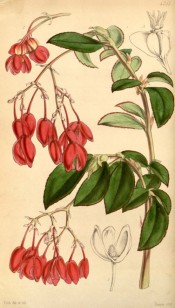 | | |
| --- | --- |
| Family | Begoniaceae |
| Category | |
| Region of origin | Venezuela |
| Synonyms | |
| Common Name | Fuchsia begonia |
| Name in the Camden Park Record | Begonia fuschioides |
| Confidence level | high |