Babiana tubulosa (Burm.f.) Ker-Gawl.
Cormous perennial, the leaves linear to lance-shaped, hairy, flowers white to cream, often with red markings on the lower segments, tube to 8.5cm, cylindrical. [CECB, RHSD].
Horticultural & Botanical History
'Since we gave the character of this genus, we have had an opportunity of examining the fruit of many of its species; and have been enabled to add the above character from thence, which will assist considerably in distinguishing it from Ixia, Tritonia, Sparaxis, Watsonia, Antholyza, and the Cape Gladioli. We can see no cause for making two species of the above plants, as Jacquin has done, attributing to the one a three-valved, to the other a two-valved spathe, when in fact their spathes differ only in size and are as usual in the genus. […] Found by Thunberg at the Cape of Good Hope, in the district of Swartland. Introduced into Kew Gardens by Mr. Masson, in 1774.' [BM t.680/1803]. A somewhat variable species. 'This is made by Jacquin a distinct species from the one figured above at No. 680, which he calls tubata; but we own we cannot see a shadow of specific distinction; besides we have other intermediate varieties, all which would also claim to be species upon as good grounds.' [BM t.847/1805].
History at Camden Park
William Macarthur sent bulbs to William Macleay in October 1843 [MP A2948-3]. This is the only reference to Babiana tubiflora I have found in his papers.
Notes
Published Oct 18, 2009 - 02:03 PM | Last updated Jul 23, 2010 - 11:44 AM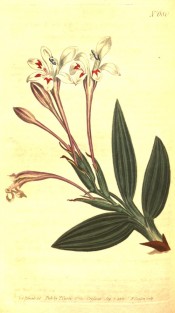 Family
Iridaceae
Category
Region of origin

South Africa, Cape district

Synonyms

Babiana tubiflora Ker-Gawl.
Gladiolus tubiflorus L.f.
Gladiolus tubatus Jacq.

Common Name

Baboon root, Baboon flower

Name in the Camden Park Record

Babiana tubiflora

Confidence level
high