Babiana ringens (L.) Ker-Gawl.
Cormous perennial with lance-shaped leaves, to 4cm long, and somewhat tubular scarlet-purple-flowers, to 4cm long, in early summer, the main flower spike sterile and most flowers borne on side branches near to the ground. To 40cm. [RHSD, CECB].
Horticultural & Botanical History
'This singular plant is a native of the Cape of Good Hope: it is recorded to have been cultivated in 1759, by Miller, but has always been considered scarce. In Holland it was known long before, having been figured by Commelin in 1697.' [LBC no.1006/1825].
'I am indebted to the Hon. and Rev. William Herbert for the account of this remarkable plant.
"We apprehend that this singular plant is the one alluded to incidentally by Mr. Ker, under the name Babiana ringens in the Botanical Magazine. Its corolla is certainly much more similar to that of Antholyza than of Babiana, and we have great doubts whether it should not form a genus by itself: but it accords so exactly with Babiana, in bulb, foliage, and habit, and as it appears to us in the capsule and seed also, that notwithstanding its extraordinary corolla we cannot take upon ourselves to separate it. We regret not having had an opportunity of trying whether it would intermix with other species of Babiana, which we are inclined to think it will be found capable of doing. It seed completely separates it from Antholyza. It is a native of the Cape of Good Hope, and flowered at Spofforth in July, and ripened its seeds standing out of doors, in a pot of sandy loam, having been wintered in the greenhouse. We had kept it many years in peat, under which treatment it did not flower. It would doubtless succeed with care in the open border."
The deep rich scarlet blossoms are highly ornamental.' [BR misc.19/1837].
History at Camden Park
Listed in all published catalogues [B.46/1843]. Babiana ringens is marked with a 'c' in a copy of Loddiges' 1836 catalogue held at Camden Park. In other documents this means 'grown at Camden', but the date of notations is unknown, except that it is 1836 or later. [CPA].
Notes
Published Oct 18, 2009 - 01:33 PM | Last updated Jul 23, 2010 - 11:44 AM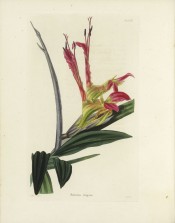 | | |
| --- | --- |
| Family | Iridaceae |
| Category | |
| Region of origin | South Africa, Cape district |
| Synonyms | |
| Common Name | Baboon root, Baboon flower |
| Name in the Camden Park Record | Babiana ringens |
| Confidence level | high |