Alstroemeria pelegrina L.
Spreading, tuberous rooted perrenial, flowers lilac or bright rosy lilac, striped and spotted with red-purple outside. [RHSD, Hortus].
Horticultural & Botanical History
First described by Linnaeus as Alstroemeria pelegrina in 1762 [Planta Alstroemeria p.10/1762].
'From Peru, as might be expected, the present plant found its way into Spain, from whence by the means of his beloved friend Alstroemer, Linnaeus first received seeds of it; the value he set on the acquisition is evident from the great care he took of the seedling plants, preserving them through the winter in his bed-chamber.' [BM t.139/1791].
'Lima: it has been long cultivated in this country, and is a plant of great beauty. It requires the greenhouse, and great care should be taken to save its young shoots from the slugs, which are unusuallu greedy of them. It flowers during the greater part of the summer, and often produces seeds here: it may also be increased by separating the roots in the autumn, at which season the stems decay and are succeeded by new ones. The soil should be loam, peat, and rotten dung, in equal proportions.' [LBC no.1295/1827]. Introduced to Britain in 1754. [JD].
History at Camden Park
Desideratum to Loddiges' nursery, 6th January 1845 [MP A2933-2, p.28]. Alstroemeria pelegrina is marked with a 'c' in the 1836 Loddiges' catalogue held at Camden Park and was probably grown before 1845, perhaps lost prior to publication of the 1843 catalogue. [CPA].
Notes
Alstroemeria pelegrina Vell. = Alstroemeria caryophyllacea Jacq. which has been confused with Alstroemeria ligtu L. This is probably the plant figured in Curtis's Botanical Magazine, t.125/1790, as Alstroemeria ligtu subsp. simsii (Spreng) Ehr.Bayer, which see.
Published Jan 11, 2009 - 02:37 PM | Last updated Jun 15, 2012 - 05:03 PM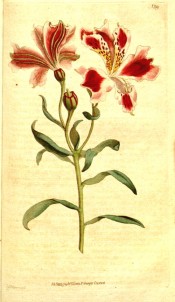 | | |
| --- | --- |
| Family | Alstroemeriaceae |
| Category | |
| Region of origin | South America |
| Synonyms | Alstroemeria amoena Salisb. |
| Common Name | Peruvian lily |
| Name in the Camden Park Record | Alstroemeria pelegrina |
| Confidence level | medium |