Alstroemeria aurea Graham
Frost-hardy, tuberous-rooted perennial with bright orange or yellow flowers, streaked dark red inside, in summer. Many garden cultivars and hybrids exist. To 1m. [RHSE, Hortus].
Horticultural & Botanical History
First botanically described by Graham in 1833. 'This species, imported by Mr Anderson, was received at the Botanic Garden from Mr Low of Clapton, under the specific name here adopted, and is now in flower in the greenhouse. I am afraid that in this, as in many other South American genera, we are unwarrantably multiplying specific names; but this is probably rightly considered distinct from any of the plants previously described. In habit it approaches nearly to Alstroemeria pulchella, but probably will always be a much smaller plant.' [The Edinburgh New Philosophical Journal vol.15, p.181/1833]. This information was repeated verbatim in Curtis's Botanical Magazine in 1834 with an illustration. [BM t.3350/1834].
'It is a very handsome species, and with a little protection from wet during winter will live very well in the open ground.' [BR f.1843/1836]. Baker described it as 'common at the present time [1888] in European gardens.' [Baker Am.] Introduced to Britain in 1831. [JD].
'It was introduced from Chili by Mr. Anderson, the indefatigable collector, who accompanied Captain King in his voyage of survey in South America.' [OFG f.187/1854].
History at Camden Park
Listed in all published catalogues [B.23/1843]. Possibly obtained from Philip Parker King or his father, both friends of the Macarthur family.
Notes
Published Jan 11, 2009 - 12:20 PM | Last updated Mar 23, 2012 - 01:40 PM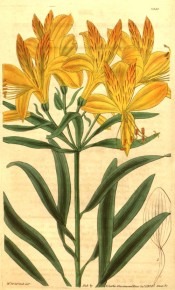 Family
Alstroemeriaceae
Category
Region of origin

Chile

Synonyms

Alstroemeria aurea Graham
Alstroemeria aurantiaca D.Don
Alstroemeria araucana Phil.
Alstroemeria chiloensis Phil.
Alstroemeria concolor Steud.
Alstroemeria mutabilis Kunze ex Kunth
Alstroemeria nivali Meyen
Alstroemeria peruviana Van Houtte
Alstroemeria pulchella H.Vilm.
Alstroemeria xanthina Phil.

Common Name

Lily of the Incas

Name in the Camden Park Record

Alstroemeria aurea

Confidence level
high