Aeschynanthus ramosissima Wall. ex R.Br.
Generally regarded as synonymous with Aeschynanthus parasiticus (Roxb.) Wallich. which see for a description. The Gardeners Chronicle described A. ramosissimus as resembling A. grandiflora (A. parasiticus), but not such a strong grower and with a tendency to branch more than the type. [Gard. Chron. 1841].
Horticultural & Botanical History
Paxton's Magazine of Botany, in which Aeschynanthus ramosissima is figured, stated that it was found by Mr. Gibson, near the summit of the Khoseea Hills, and introduced to Chatsworth, where it first flowered in 1838. [MB p.195/1839]. 'This beautiful plant is found rather common on trunks of trees and rocks in Nipal, covering their surface to a considerable extent. It approaches closely to Roxburgh's Incarvillia (Aexchynanthus) parasitica, but differs in having smaller flowers and in the size and figure of the leaves.' [Wallich pl.71/1830].
History at Camden Park
Listed only in the 1857 catalogue [T.36/1857].
Notes
Published Aug 28, 2009 - 12:11 PM | Last updated Jul 21, 2010 - 03:25 PM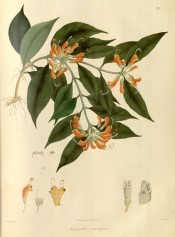 Family
Gesneriaceae
Category
Region of origin

India

Synonyms

Aeschynanthus parasiticus (Roxb.) Wallich.
Aeschynanthus grandiflorus (D.Don) Spreng.
Incarvillea parasiticus Roxb.
Trichosporum grandiflorus D.Don

Common Name

Lipstick plant

Name in the Camden Park Record

Aeschynanthus ramosissima

Confidence level
high