Aeschynanthus parasiticus (Roxb.) Wallich.
A frost-tender, trailing evergreen perennial shrub with lance-shaped leaves, to 10cm, and usually terminal clusters of large, drooping, crimson-scarlet and orange flowers in summer. To 25cm spreading. [RHSD, Don].
Horticultural & Botanical History
It was introduced from India to Chatsworth House by John Gibson, collector to the Duke of Devonshire, in 1837. Edwards' Botanical Register doubted that grandiflorus was a separate species: 'That it is the A. parasiticus of Wallich is certain; and consequently it is in all probability the Incarvillea parasitica of Roxburgh.' [BR f.49/1841]. 'It has been considered a parasite, but that this is an erroneous impression, and that this species [grandiflorus] is a true epiphyte, is sufficiently proved by the fact of its thriving equally as well on dead as on living branches; thus demonstrating that it derives its support solely from atmospheric sources.' [MB p.241/1838]. Sweet's Ornamental Flower Garden commented that 'of all the stove plants in cultivation this is one of the handsomest and the most easy to manage.' [OFG f.133/1854]. BM t.4891/1856.
History at Camden Park
Listed in the 1850 and 1857 catalogues [T.30/1850]. Requested of Loddiges' Nursery on 1st February, 1849 [MP A2933-1 p.185] and obtained from them, brought out from England by Captain P. P. King. [ML A1980-3]. 'Aeschynanthus, any good species' was also included among desiderata in a letter to John Lindley 15th Feb. 1848 [MP A2933-1 p.157] and to Kew at about this time [MP A2933-1 p.165] but not recorded as arrived. It was requested again of Kew on 1st February, 1849 [MP A2933-1 p.177] and of Lindley again on the same date [MP A2933-1 p.182a].
Notes
See also Aeschynanthus ramosissima Wall.
Published Feb 01, 2009 - 12:35 PM | Last updated Jul 21, 2010 - 03:26 PM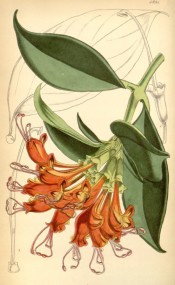 Family
Gesneriaceae
Category
Region of origin

India

Synonyms

Aeschynanthus grandiflorus (D.Don) Spreng.
Incarvillea parasiticus Roxb.
Trichosporum grandiflorus D.Don
Aeschynanthus ramosissima Wall.

Common Name

Lipstick plant

Name in the Camden Park Record

Aeschynanthus grandiflorus

Confidence level
high