Achimenes hirsuta Lindl.
Today Achimenes skinneri and Achimenes hirsuta are regarded as synonymous but they were usually regarded as separate species in the Victorian literature and for that reason are given separate entries here. [RHSD]. See Achimenes skinneri Lindl. for the principal entry. It seems probable that Achimenes hirsuta and Achimenes skinneri as grown by Macarthur were noticeably different in appearance.
The Botanical Register describes Achimenes hirsuta as resembling Achimenes pedunculata [Benth.] and, like the latter, it bears bulblets in the axils of its leaves and branches. [BR f.55/1843]. Its red flowers have a deep rose-coloured border, the lobes notched. Allen describes Achimenes hirsuta with 'hairy leaves and rose-coloured flowers with a yellow eye'.
Horticultural & Botanical History
Introduced to Britain as Achimenes skinneri in 1847 [JD] and as Achimenes hirsuta in 1842. GRA p. 37.
History at Camden Park
Listed in the 1850 and 1857 catalogues [B.8/1850]. Obtained from Kew Gardens, brought out from England by Captain P. P. King in 1849. In the confirmatory list sent by Macarthur to King it is marked with an 'o', meaning new to the colony. [ML A1980-3]. Seed was also ordered from Warner & Warner, Seedsmen and Florists, Cornhill, on 12th April, 1846 [MP A2933-1, p.131], with a similar order on 8th April, 1846 to Hurst and McMullen, Seedsmen and Florists of London [MP A2933-1, p.132].
Notes
Published Aug 26, 2009 - 09:36 AM | Last updated Aug 24, 2011 - 03:37 PM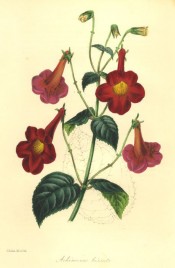 | | |
| --- | --- |
| Family | Gesneriaceae |
| Category | |
| Region of origin | Guatemala |
| Synonyms | Achimenes skinneri Lindl. |
| Common Name | Achimenes, Hot water plant, Cupid's bow |
| Name in the Camden Park Record | Achimenes hirsuta |
| Confidence level | high |