Abelmoschus moschatus Medik.
An erect or trailing herb or sub-shrub, depending on the variety, with variable but usually lobed leaves. The subspecies moschatus has single yellow flowers with a dark purple basal spot. Subspecies tuberosus is a trailing plant with red flowers and an underground tuber. The plant dies back to this tuber in the dry season, emerging again with the wet season. [FNSW, internet sources]. Widely cultivated in tropical regions.
Horticultural & Botanical History
A relative of the okra, the tubers have been used as a source of food. A native of South East Asia it has also been recorded from Northern Australia where it may also be native. Aboriginal Australians have reportedly made use of leaves and tubers as food. The seeds are known as Ambrette Seeds. 'The seeds contain an oil with a fatty-musky, slightly ambery odour. Its most important odoriferous components are the macrocyclic musks 5(Z)-tetradecen-14-olide and 7(Z)-hexadecen-16-olide, also called ambrettolide. The oil was formerly highly appreciated in perfumery, but has now been largely replaced by synthetic musks. The seeds have a strong aroma of musk, and have been known as grani moschi. Relaxing and stimulating powers are attributed to them; and some cases, apparently authentic, have been recorded, in which they seemed to have a decided influence in casting out the poison of snakes. Possibly a further and more careful investigation of their properties, would show them to be an agreeable and useful article in cases where mild nervous prostration required a diffusible stimulant and relaxant. At present, they seem to be used for nothing beyond giving flavor to the coffee of the Arabs. Seeds are used as an inhalation in hoarseness and dryness of throat. Leaves and roots are used in gonorrhoea and venereal diseases.' [www.motherherbs.com/abelmoschus-moschatus]. A line drawing is given in Wight's Icones Plantarum Indiae Orientalis. [Wight, Vol.2, p.399/1843].
History at Camden Park
Abelmoschus moschatus and the variety flore pleno were requested from George Stevenson, South Australia, in 1844. [MP A2933-1, p.21]. It is not known if they were received but John Bidwill did use Abelmoschus moschatus as a parent in a cross he effected in Tahiti. For details see Hibiscus moschato-speciosus [Bidwill].
Notes
Published Jan 16, 2010 - 03:47 PM | Last updated Jul 27, 2010 - 04:32 PM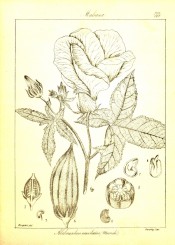 Family
Malvaceae
Category
Region of origin

South East Asia, it has also been recorded from Northern Australia where it may also be native

Synonyms

Hibiscus moschatus Salisb.
Hibiscus abelmoschus L.

Common Name

Native Rosella, Musk Mallow, Musk Okra

Name in the Camden Park Record

Abelmoschus moschatus

Confidence level
medium