Abelia floribunda Dcne.
Half hardy evergreen shrub with arching shoots and glossy, dark green leaves, with profuse terminal panicles of pendant, tubular, bright cerise flowers in early summer. To 3m. [RHSE, Hortus, Hilliers'].
Horticultural & Botanical History
'It is certainly an Abelia (although from Mexico) as M. Decaisne and Sir William Hooker have determined, and the handsomest yet known.' The plant illustrated was supplied by Veitch and Sons. [BR f.55/1847]. Introduced to Britain in 1841. [JD]. 'From the Royal Gardens of Kew, to which it was presented by M. Van Houtte. It is a Greenhouse plant, and bears its lovely flowers during the spring months, continuing a long time in great beauty. The species has attracted much attention, and has been exhibited at the horticultural shows with the generic name variously written, and sometimes corrupted into Russelia. Martens and Galeotti assure us […] that it is cultivated in the Gardens of Belgium under the name of Fuchsia sp. Mexico. Vesalea, however, is the name originally given to it by Martens and Galeotti, in complement to a distinguished anatomist, Vesale […]. In constituting this new genus of Caprifoliaceae, they notice, indeed, its affinity with Abelia of Brown, and Decaisne is quite correct in removing it to Abelia itself. All the other Abelias are Chinese or Japanese, even A. rupestris Lindl. (the "Chamoo hills", where it was found by Mr. Fortune, being situated in China, not the East Indies as stated by Walpers), with the exception of Dr. Wallich's Abelia triflora, which is from Kamoun in Northern India.'. [BM t.4316/1847]. FS pl.4 1re Liv./1846.
History at Camden Park
Listed only in the 1850 catalogue, missing from the 1857 edition, possibly in error. [See Abelia species unidentified]. Obtained from Kew Gardens, brought out from England by Captain P. P. King in 1849. Believed by Macarthur to be new to the colony. [ML A1980-3].
Notes
Published Jan 24, 2009 - 02:59 PM | Last updated Jan 24, 2009 - 03:06 PM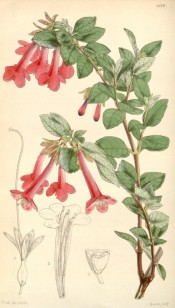 | | |
| --- | --- |
| Family | Caprifoliaceae |
| Category | |
| Region of origin | Mexico |
| Synonyms | Vesalea floribunda Mart. & Galeot. |
| Common Name | |
| Name in the Camden Park Record | Abelia floribunda |
| Confidence level | high |