Stanhopea grandiflora (Lodd.) Lindl.
Epiphytic orchid with clustered pseudobulbs, each bearing a single, lance-shaped, plicate leaf, the flowers, usually 2, large, fragrant, ivory white, with a few purple marks. In culture usually grown in baskets, the flowers emerging from the base or side of the basket. [RHSD, Hortus, Pridgeon]
Horticultural & Botanical History
'This extraordinary plant was sent to us from Trinidad, in 1824, by our distinguished and much-lamented friend, the late Sir. R. Woodford. It flowered in September last. W are indebted to Mr. Lindley for its generic name, which he suggested, in allusion to the two horns of the lip.' [LBC no.1414/1828].
'We are indebted for our knowledge of this noble epiphyte to James Bateman, Esq., who most obligingly sent us specimens from his rich collection of Orchideous plants at Knypersley Hall, near Congleton, in July last. They were accompanied by a faithful drawing from the amateur pencil of Miss Jane Edwards, and by several important notes, which have together enabled us to prepare an account of the species. It is a native of Rio Janeiro, whence it was originally imported by Messrs. Loddiges. […] When we originally examined this plant, we suggested to Messrs. Loddiges as a name for the genus that of Ceratochilus, which was accordingly adopted; but we unfortunately did not at the time advert to the existence of the same name in Dr. Blume's Observations upon Java Plants. The genus of the last-mentioned Botanist being, however, apparently distinct, it has become necessary to adopt the name of Stanhopea, which was subsequently applied to another species of this genus, the Epidendrum grandiflorum of Humboldt and Bonpland, by Dr. Hooker. We the more readily do this now, because on a former occasion, in objecting to the reception of the name Stanhopea, we suffered ourselves to be betrayed into unkind expressions, which should not have been applied to any one, and least of all to so amiable and excellent a man as our long-tried friend the Professor of Botany at Glasgow.' [BR f.1529/1832].
'[Stanhopea eburnea is] A no less peculiar, though far less beautiful plant than Stanhopea insignis, figured at t.2948 of the present work [See Stanhopea insignis Frost]. It is a native of Brazil, a country pre-eminently rich in the tribe of Orchidae. Our figure was taken from a remarkably fine specimen communicated in August 1833 by the Messrs. Shepherds of Liverpool.' [BM t.3359/1834].
History at Camden Park
The only reference to this plant is a handwritten note in an 1850 catalogue but there is little doubt that it was grown. [MP A2947A].
Notes
Stanhopea grandiflora Rchb.f (c.1848) = Stanhopea bucephalus Lindl.
Published Jan 27, 2010 - 01:28 PM | Last updated Jan 27, 2010 - 01:37 PM
---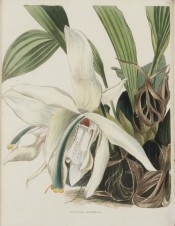 More details about Stanhopea grandiflora (Lodd.) Lindl.
Family
Orchidaceae
Category
Region of origin

Central America

Synonyms

Stanhopea eburnea Lindl.
Ceratochilus grandiflorus Lodd.

Common Name
Name in the Camden Park Record

Stanhopea grandiflora

Confidence level
high