Petunia axillaris (Lam.) Britton, Stern & Pogenb.
Half hardy perennial with white flowers in summer. To 60cm. [RHSE, Hortus].
Horticultural & Botanical History
'The flower is beautiful; in shape it may be compared to the Marvel of Peru, from a supposed resemblance to which, it has received its specific name; but it is much larger. Found by Commerson on the shores of the Rio de Plata, South America.' [BM t.2552/1825]. Petunia nyctaginiflora was introduced to Britain in 1823. [JD].
History at Camden Park
Listed in the 1845, 1850 and 1857 catalogues [H.180/1845]. By 1846 Macarthur was growing improved culivars and hybrids, for example on 8th April, 1846 he ordered 'Fine Petunia' seed of German origin, 8 varieties, from James Carter, Seedsman and Florist, High Holborn. [MP A2933-1, p.128].
Notes
It is possible that the plant listed in the catalogues as P. nyctaginiflora is a garden hybrid. Paxton's Magazine of Botany figures a Petunia nyctaginiflora x P. violacea hybrid. [MB p.173/1835], and later the garden hybrid Petunia punctata: 'There has been raised, chiefly from [P. violacea and P. nyctaginiflora] such an amazing number of beautiful varieties, that they defy all attempts at classifying, or even computing.' Punctata was raised by Miller of Providence Nursery, Ramsgate in 1843. 'The principal tint is a deep blue, which passes in streaks and blotches into a white centre; the blue itself being likewise mottled with rosy crimson.' [MB p.8/1844]. Curtis's Botanical Magazine also figures Petunia nyctaginiflora x P. violacea hybrids under the name P. x hybrida Hort. ex Vilm. Flowers ranged from white to reddish-purple, some with red-streaked throats. [BM t.3556/1837]. Illustration Horticole figures a number of hybrid petunias in a range of colours, some beautifully veined, all with a green edge to the petals. [IH p.53, Vol.2/1855]. More varieties are figured at IH p.108, Vol.3/1856 and IH p.172, Vol.5/1858.
Many petunias are perennial, but most garden cultivars are grown as annuals. Modern garden petunias are derived primarily from P. axillaris [synonym P. nyctaginiflora], P. integrifolia and P. violacea, although the latter two may be synonymous. 'Great diversity in colouring and in marking, veining, striping, and so on appears in the seedlings. The earliest results were single-flowered and later semi-double-flowered forms arose, later still the striking forms with fimbriated edges all of which may be had true from seed.' [RHSD]. An example of the new hybrid petunias was exhibited by Mr. Ingram, gardener to Her Majesty the Queen at Windsor: 'The flower appears rough, but of a leathery thickness. It is funnel shaped, five inches long, and five inches across the mouth. The outside is of a rosy-purple intermixed with batches of white. The inside of the tube is of a deep violet. It is a notable variety, far exceeding in size any other we have seen or heard of.' [FC p.139/1848]. 'So numerous are the varieties we now have, that they can be had of many shades of colour. They should be planted where they can have the benefit of a free air. […] Each of the varieties of so numerous a family, are handsome, and make a pretty show. Thin away all luxuriant shoots, which soon repays.' [FC p.133/1850]. 'Some will be surprised at my recommending the Petunia as a conservatory plant, seeing it is so very common.' This correspondent to The Gardeners Chronicle may have been referring to P. violacea: 'To my taste there is no purple flower, as a conservatory border plant, capable of successfully competing with the Petunia.' [Gard. Chron. 1852].
'Among those charming things which now so liberally grace our flower gardens during the warmer part of the season, and which, at the same time, contribute largely to the adornment of the greenhouse and conservatory, Petunias occupy a distinguished place, in consequence of the freedom of their growth, their copious production of branches, and the prodigality, as well as the extreme showiness of their blooms. Scarcely any tribe has undergone a more striking improvement in the hands of the hybridist; for, only a few years back, P. phoenicea and P. nyctaginiflora were the principal sorts cultivated; whereas now, there has ben raised, chiefly from these, such an amazing number of beautiful varieties, that they defy all attempts at classifying, or even computing. Some of these are conspicuous for their pleasing tints, and others have enormous flowers.' [MB p.8/1844].
Published Feb 12, 2009 - 01:01 PM | Last updated Feb 25, 2010 - 04:58 PM
---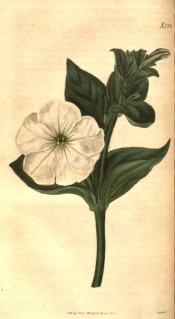 More details about Petunia axillaris (Lam.) Britton, Stern & Pogenb.
Family
Solanaceae
Category
Region of origin

Argentina

Synonyms

Petunia nyctaginiflora Juss.
Nicotiana axillaris Lam.

Common Name

Marvel of Peru flowered petunia

Name in the Camden Park Record

Petunia nyctaginiflora

Confidence level
high