Lithocarpus elegans (Blume) Hatus. ex Soepadmo
Somewhat variable evergreen tree with shiny, glabrous leaves with entire leaf margins, the male flowers being held in erect spikes. To 25m. It provides valuable timber.
Horticultural & Botanical History
'A large, evergreen tree. Wood red, very hard. Bark grey, smooth. Pores moderate-sized and large, enclosed in soft tissue in groups, patches and radial belts. Medullary rays of two classes : numerous very fine, uniform and equidistant rays, and fewer broad and very broad ones; the silver grain being very prominent on a radial section. Very numerous fine, parallel, wavy, transverse lines.
Nepal, Sikkim up to 5,000 feet, Eastern Bengal, Burma and Indian Archipelago.
Growth, annual rings not recognisable. Weight, 58 Ibs. per cubic foot. The wood is used for building in Assam and for charcoal in Darjeeling. It coppices very freely and is often almost gregarious or mixed with chestnut, Engelhardtia and Schima. It is very durable and does not warp. [Gamble – A Manual of Indian Timbers p.385/1881].
Figured in Wallich's Plantae Asiaticae Rariores: 'This is one of the largest as well as the commonest sort of oak in Nipal, where it attains the most gigantic size.' [Wallich tab.46/1830-32].
History at Camden Park
Listed in the 1845, 1850 and 1857 catalogues [T.811/1845]. Quercus spicata was part of the consignment of plants imported by John Bidwill from Kew in November 1843 [AJCP] and this is the probable source.
Smith's description of Quercus spicata appeared in Rees' Cyclopedia in 1814. Macarthur possessed a full set, now in the special collection of the National Herbarium Library, Canberra.
Notes
Quercus spicata Humb. & Bonpl. (1810) = Quercus rugosa Née which see.
Published Feb 03, 2010 - 05:14 PM | Last updated Feb 28, 2010 - 12:08 PM
---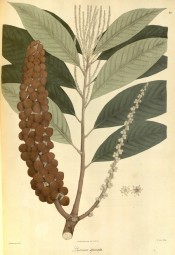 More details about Lithocarpus elegans (Blume) Hatus. ex Soepadmo
Family
Fagaceae
Category
Region of origin

Himalayas and South East Asia

Synonyms

Quercus spicata Sm.
Quercus grandiflora D.Don
Quercus squamata Roxb.
Quercus ramosa Jack

Common Name

Sunda oak

Name in the Camden Park Record

Quercus spicata

Confidence level
high