Gmelina asiatica L.f. var. parvifolia (Roxb.) Moldenke
Frost tender, often spiny shrub with ovate leaves, to 6cm, and slightly pendant terminal racemes of yellow flowers. To 10m. [RHSD].
Horticultural & Botanical History
Introduced to Britain in 1792. [JD]. 'This comes very near to Gmelina asiatica; the chief differences are: it is always a smaller plant, with much smaller leaves, although growing together (which is not unusual) on the same ground; its thorns are more numerous, and always present; the racemes are terminal; its leaves have the quality of thickening cold water like those of Pedalium murex and Menispermum hirsutum. The flowers and fruit are alike in both plants. The plant is common in every forest and uncultivated place on the coast. Flowering time October and November. The natives employ the water impregnated with the gelatinous quality of the leaves, as a remedy for the heat of urine in gonorrhoea. Water, stirred with the branches and leaves of the Pedalium murex, becomes in like manner mucilaginous, and is used for the same purpose, but soon, losing its consistency, returns to its original state: whereas the leaves of Gmelina parviflora, being gently bruised by the hand in stirring, the water remains mucilaginous till decomposed by fermentation.' [Roxburgh pl.162/1795-19].
History at Camden Park
Listed only in the 1850 catalogue.
Notes
Published Feb 15, 2010 - 04:46 PM | Last updated Aug 01, 2010 - 03:08 PM
---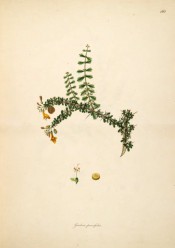 More details about Gmelina asiatica L.f. var. parvifolia (Roxb.) Moldenke
Family
Verbenaceae
Category
Region of origin

India, Sri Lanka

Synonyms

Gmelina parviflora Pers.
Gmelina parvifolia Roxb.

Common Name
Name in the Camden Park Record

Gmelina parviflora

Confidence level
high